Haters gonna hate, the saying goes. This rings true throughout much of life. There are just too many people in the world who are looking for that opportune moment to talk trash, even if it is about something that doesn't concern them. The onset of social media has only made matters worse, giving every goofball a keyboard-based bullhorn to voice their opinion.
In mixed martial arts, the good, old injury bug has become a signal for haters to crawl out of their miserable woodwork and voice their opinions about a business that they are completely clueless about. The defunct UFC 151 card is the shining example.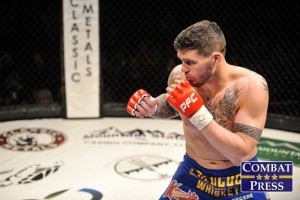 UFC 151 was scheduled for Sept. 1, 2012. A week before the fight, headliner Dan Henderson, who was set to face Jon Jones for the coveted light heavyweight title, had to pull out due to a knee injury. Unfortunately, the main event was crucial to the strength of the overall card. When Henderson pulled out, the only person willing to step up was Chael Sonnen, who was coming off a middleweight loss to Anderson Silva. Jones declined the challenge, and Zuffa was forced to scrap the event.
---
Advertisement

---
Obviously, the natural reaction was for fans to cry foul, both to Jon Jones and to the UFC, for the cancellation. However, had the event gone down, just as many people would have moaned about Sonnen getting a title shot he clearly did not deserve that wasn't even in his division. Something similar happened earlier this week.
At UFC on Fox 15, this Saturday night, Brazilian Jiu-Jitsu world champion Ronaldo "Jacare" Souza was set to face Yoel Romero in a bout that was postponed from January due to an illness suffered by Jacare. Last Saturday, it was announced that Romero suffered a knee injury in training and had to pull out of the rescheduled fight. This put a serious wrench into the co-main event of a card that will be televised on mainstream television.
Enter Chris Camozzi.
"It was crazy," Camozzi told Combat Press. "I rolled over on Saturday morning and saw a text on my phone from [UFC matchmaker] Joe Silva, asking me if I was serious about fighting Jacare again. I kind of had to double take for second, because I had just woke up to my phone. I texted back right away, and said, 'absolutely,' and here we are."
Camozzi is a 12-fight veteran of the UFC and a former contestant of The Ultimate Fighter reality show. On season 11 of TUF, he won a grueling battle to get into the house, but suffered a broken jaw and had to be released. He came back in the season finale with a win over James Hammotree and a newly minted UFC contract. His first eight fights in the Octagon yielded a 6-2 record, but then came none other than Jacare — on short notice, no less.
In addition to his legendary status as a BJJ player, Jacare was 17-3-1 as a professional MMA fighter with 14 submissions and one knockout victory. It was a big step up in competition, but Camozzi never balks at a challenge. At UFC on FX 8 in May 2013, Jacare choked out Camozzi in the first round.
After three more losses under the UFC banner, Camozzi got cut from the promotion, and he went to the local circuits to once again earn his shot back into the big show for a third time. At only 28 years old, it was a very realistic goal. When the call came, a week's notice or not, he, of course, jumped all over the opportunity for redemption. Like a true professional, he was ready to go, and his weight was already on point.
"I think I was about 200 [pounds], so I was pretty low already," said Camozzi. "You know, I've been dieting and keeping my weight low, because I was trying to find a fight before May. I'm going with my wife and some friends on a vacation to Spain in May, so I was trying to get as many fights as I could, make some money, and, then, go on vacation.
"This is what I was looking for. I was looking for another fight before May, and the UFC is where I want to be.  The UFC pays the most, and it feels great to be back."
Camozzi stepped up, earned a four-fight contract, and saved the promotion from having to cancel an ever-crucial Fox card.
Enter the haters.
Immediately after the announcement, social media was set ablaze by keyboard bandits on both sides of the spectrum. On one hand, there were many folks praising Camozzi for taking an amazingly tough fight on short notice, but he feels that his training over the last couple years has prepared him for such an event.
"The difference is about two years of training and technique, and fight IQ maturity," Camozzi elaborated. "It feels like forever ago since I fought Jacare, and, at the time, even with a bunch of wins, it felt like I was still new to the UFC and still trying to find my way. Now, I'm a little bit older, I'm a little bit bigger, I'm faster, I'm stronger than I've ever been, and my technique's better.
"I made some changes in my camp that made a real big deal. Since our last fight, I've got tons of guys in the gym now who are all fighting at a high level, pushing me. Training at Factory X, we've brought in so many good guys into Denver that train with us that I'm not the best guy in the gym anymore. Any given day, I can be, but we're battling every day, and I'm getting pushed harder and harder and harder."
Factory X Muay Thai in Englewood, Colo., is owned by head coach Marc Montoya, and the team has gone through a darn-near anabolic rise in the last year. In addition to mainstays like Joe Warren, Chase Hackett, Adam Stroup, Marcus Edwards, Gilbert Smith, Sid Bice, and Camozzi's brother Brian, guys like Dustin Jacoby, Jon Madsen, and Cortez Coleman have also joined the mix. However, there is one partner that Camozzi feels has best prepared him for the rematch this weekend.
"I think Brian Rogers mirrors Jacare's style a lot, at least on the feet," Camozzi explained. "I've got jiu-jitsu coaches that can mimic a lot of what Jacare does, but, as far as striking and transitions, Brian Rogers is a great training partner for me. He throws big overhands, big hooks, and a lot of power. He's got great judo and good foot sweeps, just like Jacare. So, I think, mentally, what's playing real big for me is that I've been training with Brian now for over a year, every day, and working on shutting down those sweeps and everything."
Rogers is one of the many Bellator vets currently at Factory X, and one of many tools in Camozzi's arsenal. And, it's not like Camozzi has been sitting idle since getting cut form the UFC. In his last two outings, he won and defended the Prize Fighting Championship middleweight title in his hometown of Denver with back-to-back finishes of high-level regional competitors. His last outing was against Wes Swofford, and that fight ended with a nasty TKO in the first round. Camozzi has learned a lot in the last year and is prepared for war.
"I learned I could break somebody's leg with a kick," joked the UFC vet. "No, I mean, I have a great training camp, and it keeps getting better and better. You know, I was outside the UFC fighting, finding out things about myself — as far as technique and fighting style. And, I think you're going to see a different fighter this Saturday than you guys have ever seen before."
The praise Camozzi has received for stepping up is well-deserved as he is a pro and ready to go. But, unfortunately, the bottom feeders still have their bullhorn. After the announcement came, the haters came out of the woodwork, as usual, but this time, Camozzi had the boss in his corner.
When the stones started to fly, UFC president Dana White came right back with a vengeance. The face of the organization took to Twitter with the following comment: "Hey dummy, u know how many people wanna fight Jacare on 6 days notice? 1!!!"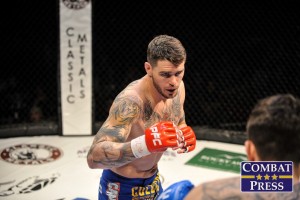 Jacare is a scary dude, but Camozzi is no joke either. Sure, his last four fights in the UFC didn't go as planned, but he was still learning his place in the sport. He's a lot different fighter now, and that will all be apparent on Saturday night, live from the Prudential Center in Newark, N.J.
It's got to be hard for a guy who is already facing adversity in a short-notice fight against the No. 2 middleweight in the world, but to listen to all the excess garbage is just disheartening. However, Chris Camozzi is used to it. He feels like he is often the underdog, and this time is no different. The Coloradan is determined and ready to win. As for the haters…
"I don't know if I want to tell them anything. I want to prove it.  I've seen mixed reactions to me taking this fight. A lot of people are really positive and a lot of people think it's ridiculous. The fact of the matter is that there are so many guys pulling out these days that it can't be ridiculous if somebody wants to fill in. My brother said it best, when he said, 'All these people complaining about the UFC giving you this fight are also the same people that would be complaining if the UFC scrapped the fight altogether.' There's no pleasing everybody, but come Saturday night, I'm going to give them the fight that people didn't expect."
Chris would like to thank his management at Ingrained Media, his team at Factory X, the UFC for making it a smooth transition, and, of course, his wife and family, who are supporting him and his business, Performance MMA while he chases his dreams.  He would also like to thank his sponsors: Headrush, Qello Concerts, RT Specialty and Valor Bridge. Follow Camozzi on Twitter:
@ChrisCamozzi
---
Advertisement

---