The state of Texas has slowly become the location for a murderer's row of talent. Attribute it to their fighting spirit, their history of sport or the blossoming MMA scene there, with Legacy FC at the forefront.
The state is also the training ground of a female featherweight who is looking to put her name on the map. That lady is Latoya Walker, an undefeated 145-pound prospect who has quickly risen through the ranks to potential stardom.
A boxer and mixed martial artist, Walker has taken cage fights and boxing matches to stay busy. As an amateur, it was easier to find boxing opponents, whereas women's MMA provided fewer opportunities.
---
Advertisement

---
That's not to say that Walker is one-dimensional. It's quite the contrary. In fact, while taking boxing and looking for MMA matches, she was still in the gym working every facet of her game. She's still a work in progress, though it's a work that has led to success.
"My strengths are definitely stand-up and grappling," Walker told Combat Press. "As far as weaknesses, I don't think I have any, but I would definitely like to polish my wrestling up a little bit, especially my takedowns."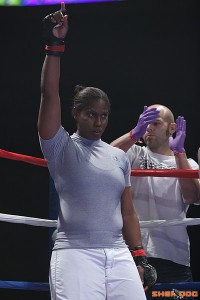 Her journey thus far as a pro has seen her go to 4-0. In that time, she has two wins via knockout and two wins via decision. All of those bouts have shown the potential and current skill of Walker, who has all the tools to be special.
"My fight against Gabrielle Holloway was definitely my best fight so far," Walker confessed. "She was a tough opponent and the fight went all five rounds. It showed how well my stand-up had developed. It showed I could perform all five rounds and set the pace well."
That win came in her second pro fight. She has added two more wins since the Holloway bout. First, Walker defeated Brittney Elkin. Then, she stopped Anita Rodriguez. The momentum has her ready to go when she makes her Invicta debut on April 24.
Walker is matched up with Peggy Morgan, a tall, lanky featherweight with UFC experience and a solid skill set. It is easily the biggest challenge for Walker at this point in her pro career.
The big standout stat is that Morgan stands 6-foot-1 to Walker's 5-foot-5. Size does not always matter, but reach and range could be an issue for "The Black Mamba." However, Walker is not concerned. She is ready, as is the custom of a short featherweight combatant.
"I think it's a really good match-up," Walker said. "I like to work more inside on opponents. I've grown accustomed to fighting taller fighters, so her size won't be a big deal to me. I think she's going to try and apply pressure, come at me strong and stay on the feet more. It should be a striking match."
Walker will be looking to add another win to a nicely developing resume. Winning is important to her too, but her concern is to get name recognition and put on a show for the fans. If she continues the success she has already been having, Walker should be a name that MMA fans become more familiar with in due time.
Latoya would like to thank Colton Smith and his guys for the great work, Chuck Luther with Nutrition Hut, Cooper MMA and Pinnacle Training Center for providing her with an amazing training ground. She'd also like to thank Jawzz Mouthguard, Wu Gear, TNF Nutrition and all her awesome training partners and family.
---
Advertisement

---