One day, you are walking down the street or waiting for your coffee at your favorite local café. You turn around and you see that friend from high school. The one you thought you would not lose touch with, but you did. You catch up and move on with your day.
For Bellator MMA lightweight champ Will Brooks, that one chance meeting changed the course of his life forever.
Brooks and former classmate Nick Redding crossed paths a few years after high school. The two talked for a bit. This would happen to be the springboard into just the sort of thing Brooks was seeking in his life.
---
Advertisement

---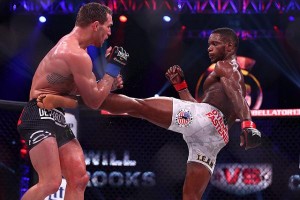 "We went to high school together. He happened to be going to a college down the road from me," Brooks told Combat Press. "It actually turned out that he lived in the same apartment complex as I did. So, we just started hanging out again.
"He was training in mixed martial arts, and he would talk to me about it all the time. I just really wasn't that into it. I also didn't know much about it. One day, he came over to hang out and we were watching some TV. I was just talking to him, telling him I was looking for competition, looking to compete or doing something. So, he invited me to his gym for some wrestling practice."
The thing about Brooks is, he is ever the opportunist. When he sees a glimmer of light coming from the bottom of a door, he bull-rushes the door and knocks it down.
Brooks again took the first opportunity that came to him and fought in his first amateur fight just months after he started training. Then, 18 months after his first professional fight and with just seven fights under his belt, Brooks received a call from a Japanese promotion. The company needed a late replacement for its 2012 end-of-year card. Without having to think about it, Brooks took the fight. His opponent? Satoru Kitaoka.
Brooks went into enemy territory and walked out with the TKO win. The victory may have turned plenty of heads, but Brooks already knew he was destined for greatness.
"I have always been a guy that is all in or nothing," Brooks explained. "It is either going to be 100 percent or nothing at all. Once I decided that I was going to be a professional fighter — be a professional mixed martial artist — I was going to give it everything I had. I had already decided that I was going to go all the way to the top. Getting the opportunity to go over to Japan and fight against a guy like Kitaoka, getting that opportunity was really a big step in my career.
"Did it give me the idea that I was going to take this all the way? I don't believe it did. I think that I had already decided that. I just saw it as a stepping stone to really throw me up in there [and] put me where I wanted to be right away. I feel in life you are given opportunities to be great. That was my opportunity to go out there and do something special and put myself in the position to be great, and I snatched it. I saw it there. Somebody put it in my face and I went after it. I took advantage of it."
After Brooks picked up the win over Kitaoka, Bellator called. The promotion needed a hot prospect to fill out the bracket for its lightweight tournament. No problem. Brooks is the type of fighter that doesn't view these things as short notices. He calls them opportunities. And Brooks takes every opportunity that comes his way.
"That is how I think people should live their life," Brooks admitted. "I think that we as a culture, and the United States, we have been manipulated and taught to believe that we need to wait for opportunities and wait for our time, take our time. If anyone ever looks back or stops and looks back at the American culture and how this country was built, yes, there were a lot of negative things that took place, but at the same time, when you really look at the culture, we don't wait. We are always ready. Stay ready. That was something I was raised on. That is something I have learned from my coaches. My family, my dad — this is what we do. We stay ready.
"Nothing is ever short notice. I am a workhorse. I'm always working. I'm always training. I'm always watching tape. I'm always studying everybody. What most people say is a short notice, I don't believe that. I don't see that at all. With that fight [Chandler-Brooks I], I was actually training to fight another guy on that card, so I was already ready. I was ready to fight anybody. Again, most people would see that as a short notice, but when you are constantly training and constantly working, nothing is ever short notice."
Those opportunities included a crack at Michael Chandler and the Bellator lightweight championship. Brooks, fresh off claiming the Bellator season-nine tournament, fought and defeated Chandler to leave with the belt. Granted, it was of the interim variety. So, the pair met again after champion Eddie Alvarez left for the UFC. The second time around, Brooks won again, but with a different outcome. He was able to finish Chandler in the third round by standing TKO.
"I finish fighters. I finish guys," boasted Brooks. "When I go to bed, I go to bed next to my fiancé. I give her a kiss good night. I roll over, close my eyes and I'm in a fight. I'm in a fight every single time I go to bed. I'm in a fight every single time I wake up. I daydream of fighting. When I visualize my fights, sometimes I'm in trouble [and] sometimes I'm on top of my game. But, at the end of the fight, I'm finishing the guy. That's what I look to do. I look to dominate and look to impose my will."
On Friday, Brooks will be looking for the same outcome, the one of which he dreams, when he faces No. 1 contender Dave Jansen. Brooks can only visualize Friday night going one way, and that's with him walking out with the belt secured around his waist.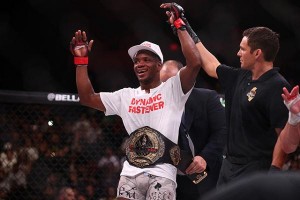 "I genuinely watch tape," said Brooks. "I have watched him. I am not trying to be arrogant or egotistical or anything like that. I don't see anything that he does better than me. I'm not really that intimidated or overall impressed by what he does. Does he have some skills that I need to be aware of and acknowledge? Yes, he does. But, at the same time, I have a lot of skills and things that he is going to need to acknowledge.
"It all comes down to when you are in the middle of a fight. You don't have time to think about what the other guy is good at. You only have time to worry about what you have put together for that training camp, what you possess and what you can bring to the table. Then, you impose your will. That is what I am going to go out and do in this fight. Dave Jansen — again, does he have skills that I will need to pay attention to? Sure, he does. But, at the same time, do I feel that he matches up well with me? No, I don't.
"I have way more athleticism that anyone he has ever faced. If you look back at his career, he has faced a lot of flat-footed fighters. A lot of guys have just stood in front of him with more of a boxing style. He has never faced anyone as athletic or as fast as I am. I move my head and slip punches and wrestle the way I wrestle. I can defend takedowns and hold that pace for a long period of time. He hasn't had that in his career. In this fight, he is going to have his hands full. It's not going to be like anything he has seen before."
Brooks would like to thank his sponsors: Dethrone, Everlast, Damage Control mouthguards, Garden of Life, Tomahawk Shades and Feeding South Florida. Follow Will on Twitter:
@illwillbrooks86
---
Advertisement

---