If there is one person that might be sick of hearing the name of Bellator lightweight champ Will Brooks again and again, will you be surprised to learn that this one person is not named Dave Jansen? Though Jansen is taking on the champ at this Friday's Bellator 136 card, it seems like Saad Awad is fielding just as many questions about the American Top Team product, Brooks.
The reason for this is very clear: Awad was the last man to defeat Brooks, who many consider as one of the top lightweights in the world today. Awad did so very impressively, too, with the TKO stoppage in merely 43 seconds. Yet, while Jansen gets a crack at Brooks and the title, Awad will appear on the Bellator 136 preliminary card.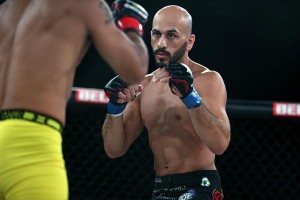 "I'll just take it one fight at a time," Awad told Combat Press. "I keep getting asked about Will Brooks, but I'm trying to put my focus in this fight. I have a really tough fight ahead of me, which is Rob Sinclair. Once I get through him, then I will focus more on what is next."
---
Advertisement

---
Given the attention Awad is receiving for being the man who beat the man, it may be easy for him to overlook the task at hand and instead focus on what is being talked about by fans and media alike. Also, it doesn't help the cause that Sinclair is a European-based fighter and many people here in the United States have had little exposure to his skills. Blend all those aspects together and you can easily see a fighter tempted to look into the future and look past an opponent like Sinclair.
"You know what? I kind of feel that way, because a lot of the questions I am being asked are about Brooks," Awad admitted. "So, yeah, I feel that way. I am pretty sure all of Europe is behind him, and at one time he was the top lightweight up there. So, I am definitely not overlooking him, because I know he's put in his time and he's built up a pretty good resume."
Experience, specifically in the Bellator cage, is one thing that will be in Awad's favor once the bell rings. We can all agree that the UFC is still at the top of the heap, but Bellator is definitely not like fighting for just any local show. Those bright lights and the fight-week preparation and obligations can most certainly take their toll on a fighter who might not be used to this type of platform.
Awad brings plenty of experience in these areas. He has fought for the promotion seven times in his two-plus year tenure on the roster. He has seen the change in management from Bjorn Rebney's old regime to Scott Coker's current leadership. Awad has been through the process of making Bellator what it is today.
"I liked them both, honestly," Awad said of Rebney and Coker. "Bjorn did his thing and Coker is doing his thing now, switching it up. I like the fact that we are getting more attention now. They are hyping up the fights more. Before, there was a fight every week, so nobody really knew who was fighting when or what day. There were so many fights that no one could keep track of them. So, I am liking the publicity and the more attention the fighters are getting."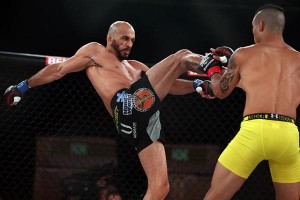 Awad will miss one Rebney creation: the tournament. It was one of the major talking points whenever people discussed Bellator MMA. For the most part, the chatter was always about how the company should eventually get rid of the format, but don't count Awad among the group who agreed with that opinion. Not completely, at least.
"I liked it," Awad said. "I liked the fact that if you win the tournament, you get a title shot. It is right there in your face, and you get a nice paycheck in the end. This way, now, I kind of like it also, because if you get injured you have time to get it right instead of having to jump right back to it and fight. I'll defend both of them."
Tournament or not, should Awad defeat Sinclair on Friday night, one could easily make the case that he should be the next in line to get a shot at the belt, especially if Brooks retains the title. It would be hard for Scott Coker and company to deny Awad, who has compiled a 9-2 record over his last 11 and scored back-to-back impressive wins under the Bellator banner, a shot at Bellator gold. But first things first. Right now, Sinclair is the target. Everything else will just have to fall into place.
---
Advertisement

---