A total of 23 fights over six years. That has been the mixed martial arts career of Rick Hawn thus far.
When it comes to fist-fighting veterans, Hawn is as well traveled as any of them. With a tenure under the Bellator banner that spanned four years, the 38-year-old has had his fair share of fights on one of the sport's biggest platforms.
When he was released from his contract with Bellator, it could have been a sign for Hawn to hang up the gloves for good. A lot of other fighters probably would have called it a career. It was a good run, too. The veteran had won Bellator's season-six lightweight and season-nine welterweight tournaments. He had challenged for two titles.
---
Advertisement

---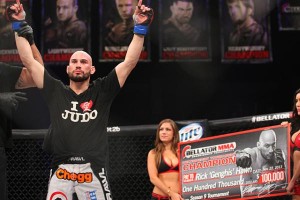 What Hawn has done outside of the UFC is no easy feat. That's why he plans to keep on pushing forward and keep on fighting. It's all about the immediate future for Hawn, and the future is set to hold a hell of a lot of fights if the seasoned fighter gets his way.
"I don't know how much longer I'm going to be fighting, so I want to make the most out of it," Hawn told Combat Press. "I want to fight every month, if I can, for the remainder of the year. I've spoken with my manager, and the promotions I'm signed with — CES MMA and Titan FC — and hopefully I can fight every month this year. That would be amazing."
Prior to his tenure with Bellator, all of Hawn's professional bouts had taken place in the New England region. In his first fight outside of Bellator, Hawn made a successful return to the region by notching a victory at Titan FC 32. His upcoming CES MMA 28 bout also takes place in his old stomping grounds, and the perfect winning record that Hawn holds in the area has a very real chance of continuing on.
"I'm very excited," Hawn admitted. "I live about 90 minutes away, so there are a lot of people I train with in the area, and I've got lots of friends and family coming to the fight. It's great to be so close to home and share the experience with family and friends. It's exciting for them, it's exciting for me, and I'm very happy to be able to fight so close to home.
"I look at it as just another fight, of course, but I'm also looking forward to celebrating with my friends and family after the fight, have a good time and being close to them. The crowd, and the venue we're fighting at, is going to be friendly, so it's going to be a fun night."
For Hawn, who has already had "big fight" experience under the Bellator banner, CES MMA and Titan FC could prove to be a perfect gateway for him to get back into the spotlight. CES MMA especially has recently seen several alum grace the Octagon, and Hawn has big plans to become yet another name that makes the transition.
"They've produced a lot of guys who have gotten into the UFC — Rob Font, Tateki Matsuda, Charles Rosa — so there's definitely potential for that," Hawn said. "I've just got to keep putting some more wins together — some big wins — and I think it's a possibility [for me] to get picked up."
Before he tried his hand at mixed martial arts, Hawn had a berth in the 2004 Olympics competing in judo. He did not come away with a medal during the Summer Games, but he still placed a respectable ninth place.
"It was incredible. At that point, it was my lifelong goal, my lifelong dream. Making the team was incredible," Hawn recalled. "It was such a rush of excitement and accomplishment. Going through all the years of training, all the injuries, it was just amazing to finally accomplish my goal. It was an incredible feeling."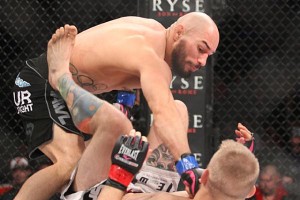 When Hawn parted ways with Bellator in the later stages of 2014, he had suffered back-to-back losses for the first time in his six years as a professional fighter. Since then, he has bounced back with a win and looks to continue to string victories together to replicate the streak from his earlier years.
"Extremely important," exclaimed Hawn on just how much this fight means to him. "Especially at my age. Every win — and every loss — is a big deal. If I want to make it to a bigger show, I can't have any losses. I have to go out there and perform at my best. If I was in my twenties, with a lot of time ahead of me, then it wouldn't be so important. It would still be important obviously, but I have to win these fights. But I don't put any added pressure on myself. I just want to go out there and fight to the best of my abilities. If it happens, it happens, but I just want to fight to the best of my abilities."
When Hawn steps into the CES MMA cage on March 13 for his first bout with the promotion, he faces Derek Loffer, who has won four in a row. Out of Loffer's nine professional victories, eight have been posted in the first round. However, none of that fazes a veteran like Hawn in the slightest.
"It's another fight," Hawn exclaimed. "He's a young kid with a nice win streak, but it doesn't mean anything to me. I'm not the opponent that he's beaten. It doesn't scare me much. All fights are dangerous, as anything could happen at any time, but I'm confident in my abilities in all areas that we're going to be matched up against. I'm ready to go."
---
Advertisement

---