In the fight game, there are fighters and there are gamers. And, a game fighter is not to be confused with a fight gamer. The former is something every fan desires and the latter is something every real fan should despise.
Real fighters need no explanation. There are men and women out there who will take on any opponent, any day of the week, on little-to-no notice — even if there's a good chance of not giving the best showing. Fighters are always ready to go and never stop training.
Gamers are the folks who want to call themselves fighters, but have no heart, regardless of how talented they may be. The gamers fake injuries, they duck unfavorable match-ups, and they only want fights when all the cards are in their favor. Dakota Cochrane is definitely not a gamer.
---
Advertisement

---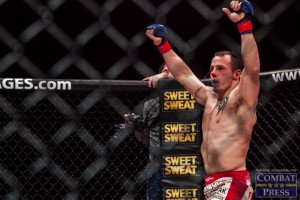 Cochrane is not just a fighter, but a lifelong athlete. Outside of the cage, when he's not hanging out with his wife and kids, he works as a trainer at 24 Hour Fitness in La Vista, Neb., and he is also an avid powerlifter. In the cage, he is 18-7 as a pro, has finished 12 opponents, and has only been to decision seven times. He's taken fights with months to prepare, he's taken fights on less than a week's notice, and he has never backed down or out when the cards are stacked against him.
Just like any real fighter, the Nebraska native's dream has always been to fight in a big show. He took a shot at The Ultimate Fighter reality show back in 2012. It was the live season, when they did one-round fights to get into the house, and he lost a split decision to eventual semi-finalist James Vick. It was a bogus fight in that respect, and he definitely did not get a fair shake — especially, for a fighter that was 11-2 at the time and had beaten the likes of Jamie Varner and Marcus LeVesseur.
After the unfortunate TUF circumstances, Cochrane had a fire in his belly. He took any fight that came his way, regardless of notice, including a trip to Helsinki, Finland last June, where he knocked out UFC vet Anton Kuivanen with a flying knee at 48 seconds of the first round. So, it was no surprise what happened last fall.
In October, Cochrane got the call to step into the cage to take on one of the world's top lightweights, Alexander "Tiger" Sarnavskiy at Bellator 128. The catch? He had three days' notice — literally, less than 100 hours — to prepare for a 28-2 Russian killer who had finished nearly every one of his opponents. Amazingly, Cochrane showed up only five pounds heavy as a lightweight, which created a catchweight bout. He was choked out about halfway through the first round, but that wasn't the point of this fight. The powerlifting Midwesterner wanted to show the Bellator brass that he wanted his shot and was willing to do whatever it took to get there.
"It was a short-notice fight for Bellator," Cochrane told Combat Press. "I didn't have a lot of time to get ready, and I knew that going in, but I thought it was a good opportunity for me, so I took it."
He took it, and now Cochrane has a contract. This Friday night, he will step into the Bellator cage again in the first of his next three fights for the promotion.
After the loss to Sarnavskiy, Cochrane got lined up for another regional fight in Nebraska. He faced Ted Worthington at Disorderly Conduct Sports 12 and scored a TKO at 43 seconds of the first round. It was a much needed confidence booster.
"I wanted to work my game plan and end it quick," explained Cochrane. "I wanted that confidence going into Bellator."
The last-minute acceptance of his first Bellator fight and the quick dismantling of Worthington not only led to a Bellator contract, but his next fight is a huge one. At Bellator 135, he will be facing Ryan Couture, son of Randy Couture, one of the biggest legends in the history of the sport.
"A couple weeks after my last fight, I knew it was a possibility," said Cochrane of Couture. "I knew they were trying to match it up a few weeks after my last fight.
"I like the match-up. I was pretty excited. It's a big name. He's fought in all big shows, so he's got a lot of good experience. He's going to be super tough, but I think my style will match-up pretty well against his. I know he's going to be in super good shape, and I know he's just a tough dude. Like, he's not just going to go down after a few punches. He's going to keep going, keep coming, no matter what. He's going to try to put that relentless pressure on."
Couture may be the son of a legend, but his results have been mixed. While he did spend the bulk of his early career in Strikeforce, he lost both of his fights in the UFC, and most of his wins are by submission. Unlike his dad, he doesn't pack much finishing power, but he is a very tough, grinding grappler. Cochrane is definitely the more well-rounded fighter.
"I've got my athleticism, and I bring a lot to the table with that," Cochrane elaborated. "I've got that athlete advantage. I know he's super tough, but he's not really explosive. I'm hoping to bring the athleticism and explosiveness to my advantage."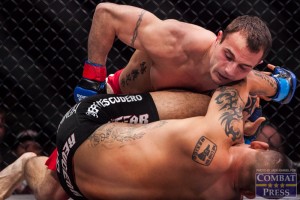 Cochrane does bring a lot to the table, but Couture is also a game fighter, so this will be a very interesting fight that the fans will not want to miss. The Nebraskan will come out hot, but Couture does not go down easy.
"I think it's going to be a great fight, because you have two different styles – a very tough, durable guy versus a very well-rounded guy," Cochrane said. "Those types of matches are usually exciting."
Being a guy that is seasoned and will take on anyone, any time, Cochrane is not the type of guy to look past any opponent, but, short notice or not, that first Bellator fight is still lingering in the back of his mind. He wants redemption, because he knows that was not his best showing.
"I want to win this fight, and work my way back up, so I can rematch Tiger," Cochrane intimated.
The gamers would never say something like that. The gamers are the guys who would not be satisfied with anything other than an easy road to the UFC, but Cochrane is not a gamer. He is a fighter, and that is one he wants back. Sarnavskiy is truly one of the best in the world, and Cochrane wants a real test at that level. That being said, he's been very happy with Bellator so far, and looks forward to the remainder of that contract.
"Honestly, Bellator has been treating me very well, so I have no complaints with Bellator," Cochrane stated. "I'm honestly happy where I'm at, as long as I can fight consistently. That's always been my issue with some promotions. They just don't fight you enough."
Well, if Bellator keeps throwing guys like Sarnavskiy and Couture his way, Cochrane will be a very happy camper. With his background and the fact that he is a fighter, not a gamer, high-profile fights with him in one corner are a win-win for everyone — fans, opponents, promoters, and, most importantly, him. All of this will be readily apparent this Friday night at Bellator 135.
Cochrane would like to thank his wife and kids, all of his coaches and training partners at Premier Combat Center, including Ryan Jensen, Kurt Podany, and Jose Campos, his manager, Mike Kogan, and his sponsors Nissan of Omaha, Schilke Erectors Schmidt's Trucking, Big Brain Tattoo, Digital Sky, Old Chicago, Animal Instinct, Bana Nutrition and Panic. Follow Dakota on Twitter:
@DakotaCochrane
---
Advertisement

---