Valentine's Day is this upcoming weekend. While that is usually a time for loved ones to celebrate and show their affection for each other, UFC flyweight Tim Elliott will have other things on his mind. Elliott will be looking to snap a two-fight skid this weekend when he is matched up with former Bellator bantamweight champion Zach Makovsky. Any fighter in the UFC knows that the general rule of thumb is that a three-fight losing streak can lead to the infamous pink slip. Many fighters carry a lot more pressure when they are close to that mark, but not Elliott.
"I put about the same amount of pressure on me for every fight," Elliott told Combat Press. "The way the UFC is, you have to win them all. You are liable to get cut at any time, so I don't put any extra pressure on myself. There is a little bit more at stake and I think I have a good opponent, but it's just like any other fight. The fight that you are about to have is always the most important.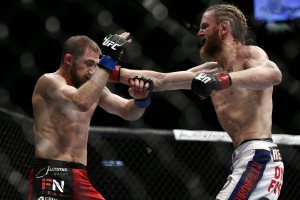 "It takes a lot pressure off me when I fight guys like John Dodson, Joseph Benavidez and Ali Bagautinov — guys I know that people think are going to beat me. It just makes it super easy. When I fought a guy like [Louis] Gaudinot, it was really tough for me because everybody thought that I was going to win and expected me to win, and it put a little bit more pressure on me and it took the fun out of it because I was all business. I was all win, win, win, win, win. And with John Dodson and Joe B., all I had to do was go out there and it was a win-win. I'm fighting one of the best guys in the world and as long as I put on a decent show, then it's going to be a positive thing for me."
---
Advertisement

---
The last time UFC fans saw Elliott fight at UFC 172, Benavidez defeated him with what was later coined as a "Joa-Constrictor" and also was a candidate for "Submission of the Year" for 2014. Many fighters beat themselves up after a loss, especially one that will be a part of highlight reels for years to come. Other fighters observe the mistakes that were made in their losing effort — or sometimes even a winning effort — and make sure that next time around they do not have a repeat performance. Elliott looks at his fight with Benavidez in a way that would cause most fans to scratch their heads.
"[I learned] that I don't have to take somebody down if I am winning on my feet, that I don't have to engage in the ground game, he said. "But my instinct is to take them down and hit them as much, as hard and as fast as I can. Sometimes that's not a good plan, and a guy like Joe B., even though I was overwhelming him, he's such a vet that he never thought he was in any danger and even if I was whooping up on him for a second, he knew that he was fine. He did the right thing. He stayed calm, he stayed patient and he waited for me to make a mistake and he capitalized on it. But I would love that fight again. That was the best I have ever felt in a fight. I don't think that I have ever felt better than I did at that moment. Even when I was getting subbed, that was running through my head — 'Man I feel so good!' — and then it was over.
"I think Joe B. is a great guy and he's really funny and he's a really, really good fighter. That's the reason why I would like to fight him again. I was having fun while the fight was happening and I feel like there is some unfinished business there. Not that I think that I would win that fight, but I feel like had I kept going I could have gotten bonus money and that's really what I want. And that's a good guy to get it with. I feel like I lost out on some money there by losing early. I don't mind losing, but I at least want to go out with some money in my pocket. He loves to fight and that's really why I would rather fight him than any of the other guys that I have fought, just based on that. I think he is a great guy and that's why I want to fight him again. He's so exciting and it's just a big opportunity for big money when you're fighting a guy like him. And guys like Bagautinov who run backwards the whole time, I don't want to fight those guys."
While Elliott may be clamoring to redeem himself against Benavidez, he has all of his focus on Makovsky right now. He has even made the proper adjustments in his mind to be 100 percent prepared on fight night. He's even taking the altitude into consideration.
"I have been training out here [in Colorado] for a week already, and it took me about this long to start feeling it," Elliott explained. "It's a real thing. I went out to Factory X, and Joe Warren and those guys rag-dolled me. That's something I am going to have to deal with and to adjust some things and not use so much extra movement. But as far as Zach goes, I don't think he poses any real threat as far as danger goes with being subbed or getting knocked out. I know his wrestling is good, but he is pretty A-B and I have a lot of guys that train that way. So that's a good match-up for me, as far as styles go."
Training for a fighter is essential to being prepared and being the best mixed martial artist that a fighter can be. Sometimes, as many fans have seen, fighters will add another gym into their training regimen for some fresh faces, new outlooks on techniques and different stylistic match-ups. So, how did Elliott end up at Factory X?
"That's all James Krause," Elliott said. "He knows the guys up there and he thinks that it is a good place to be, and it's close to where I am fighting at. Three or four weeks I feel will be adequate time and that's all the coach's doing.
"Whenever James says something, I just do what he says and that keeps me from having to think too much and then I can just focus on fighting and getting ready. And his fight is a couple weeks after mine, so it works out even better. He is my main coach and my main training partner. He has cornered me in every single one of my UFC fights. He's just a really smart guy when it comes to MMA. He knows how to win an MMA fight. That's the way we train. We don't really train boxing, wrestling, jiu-jitsu and karate. Our purpose in the MMA practice is that everything is to become a better MMA fighter. It's a really good fit for me and it has worked out well. I mean, obviously I lost my last two, but I've fought pretty solid opponents every time I have fought, so I feel confident and comfortable with how things are going and how I have done so far.
"It's been a little different. I slowed things up a little bit. We would spar three or four times a week, and I kind of cut back on that. I was getting injured a lot and taking a lot of damage, so I cut my sparring back to maybe once or twice a week. I feel like it's going to help me. I already know how to fight. I just need to hone things up and just try to focus on coming into the cage feeling good and being healthy. I feel like as long as I can come in feeling healthy and good that I will win. I don't think Zach is better than me anywhere and I don't think he's fought as tough of guys as I have fought in the UFC. I feel confident that we had a decent camp, and I changed some things up like I said. All in all, I feel like my shape is good and I will be ready to go."
It is very unusual that a fighter's head coach and main training partner are the same person, but it seems to be the best fit for Elliott. Elliott does have a slight disadvantage, though, given that he is a flyweight and Krause is a big lightweight. Luckily for Elliott, some new additions to the gym have worked in his favor.
"Lately, we have gotten some little guys in the gym [like] Yazan Hajeh in my corner now." Elliott explained. "He's an amateur, but he's one of the better guys in our gym as far as technique goes. I mean, he is a ninja and I have learned a lot from him. We have a whole slew of 125-pounders who just came in and who just started MMA. I feel like that has helped me a lot with my sparring and speed-wise. I'm not having to spar with James Krause and Zak Cummings all the time, which has been a lot better on my brain, my body and my mental game. So that's helping out a lot, having all these little guys in the gym. Even though they are amateurs and a lot of them are new, they are just really solid and tough. Whenever they have a fight, I will come in and be a dummy for the cause for them and vice versa."
While Elliott has devoted his time and energy to training, he made sure to catch the flyweight tilt that carried possible title implications between Ian McCall and John Lineker at UFC 183. Lineker made headlines the day prior when he was unable to make the flyweight limit, coming in a whopping five pounds over the mark. With this being the fourth time Lineker has missed weight, UFC President Dana White announced that the Brazilian would have to move up to the bantamweight division regardless of the outcome of the fight. Lineker ended up taking a unanimous decision from McCall, but that really leaves the division in shambles.
"Lineker is out of the division now, which kind of hurts things for a lot of people." Elliott said. "He was somebody who was maybe looking at a title fight with one more win, or who knows. Now, he's out of the division and another top guy took a loss, so I don't know what that means for the little guys. I have no idea."
Even with this sense of not knowing what is next for the flyweight division, Elliott feels that regardless of weight class, he wants to fight Lineker next and has a pretty sound reasoning for it as well.
"He's exciting. He hits hard and he's only 24," said Elliott. "He's young and he just keeps getting better and better and better. When I had my first fight and fought Dodson and he fought Gaudinot, they got 'Fight of the Night' and he didn't even make weight for that fight. I feel like that bonus money should have been mine and Dodson's. We had a back-and-forth battle for three rounds and he got choked out early in the second, and they gave him 'Fight of the Night.' So I kind of feel like he got a little bit of my money and that makes me mad. I would love to fight him, out of all the guys, even though he isn't at 125 anymore. I wouldn't have a problem going up. I would still be about six inches taller than him. If you don't make weight, then you shouldn't be able to get bonus money. But I don't make the rules and that's how it goes."
Making bantamweight for Elliott would not actually be that hard given his walk-around weight of 155 pounds and a strict dieting regimen.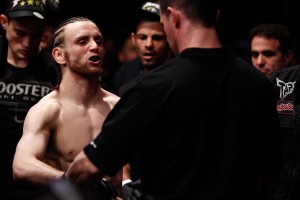 "While I am training, I can't take in enough calories," Elliott chuckled. "I eat as much as I possibly can for every meal. As hard as I train and as much as I train, there's really no way for me to put on any weight. I keep it right around there, and I have a good diet coach [in] Tyler Mitten. He's helped me and James and Zak out, and it's just made it so much easier. I have it down to a science now and, again, it's just another coach that does things so that I don't have to think about it. They do all the work and I just do what they tell me. All I have to do is focus on the fight. It just makes everything super easy.
"I have somebody who takes all that pressure and puts it on the shelves. They take the blame and fault for everything, and I don't have to do anything. As long as I listen to them, it just seems to happen. The first time I tried it, I got scared halfway through the weight cut with the water loading and I bailed on the plan, and it was a real struggle for me. But these last two times, I have been making weight no problem and I'm still able to eat a meal the day of the weigh-ins, which is unheard of for me. It makes it really nice to just be able to sit back and focus on the fight and put some of the pressure and some of the things on somebody's else's plate. My guys pull up that slack really quick. It's a good thing. Plus, having James Krause in the gym and he's such a big 155-pounder and he cuts so much weight, so it's hard to complain and bitch about making weight whenever you got a 6-foot-6, 300-pound guy making 155. You don't want to be a pussy about crying about not making weight. Whenever you see James at 55, that's a huge cut."
However, before Elliott can wonder about what may or may not happen regarding a fight with Lineker, he will need to have all of his focus on Makovsky and get through him first this Saturday at UFC Fight Night 60 in Broomfield, Colo.
Elliott would like to thank his team at Glory MMA and Fitness (formerly Grindhouse MMA). "Without them, I wouldn't be here. There's no doubt about it. All of my success is shared with them. Those guys deserve all the credit. They are the only ones who deserve the credit and they are the only ones I give credit to." Elliott would also like to thank his two sponsors for this fight: "Dynamic Fastener, and there's a local rapper in Kansas City named Yung Knowledge. He's on my crotch-piece on my shorts and he's the one who is footing the bill for us to be here in Colorado. Sponsors are kind of dying off now that the Reebok deal came in. Yung Knowledge is the one who paid for our hotel room and all the food while we are out here training. I'll be walking out to one of his songs." Follow Elliott on Twitter:
@TElliott125
---
Advertisement

---