A "diamond in the rough" is a hidden gem or a lurking unknown that has the potential to be one of the best things out there.
In mixed martial arts, there are many examples of diamonds in the rough, but most of them eventually get noticed. The Ultimate Fighter reality show has uncovered a few, some of the smaller organizations have produced a handful, and, occasionally, they show up out of nowhere and end up at the top of the game. Mirsad Bektic and Justin Gaethje are examples of guys who came up through regional circuits and made their way to the top of their respective games. But, what about the other hidden gems? What about the guys who have been grinding it out for years but have yet to get a fair shake?
Roy Nelson is an example of a guy who was grinding it out for over half a decade. He racked up a 13-3 record, earned a black belt in Brazilian Jiu-Jitsu and became the IFL champ before even getting a shot at TUF. Once Nelson did get his shot, he ended up winning the show and then fought the biggest names in the UFC's heavyweight division and earned six "of the Night" honors in the Octagon over the course of the next five years.
---
Advertisement

---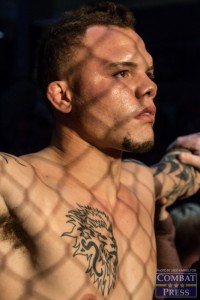 Well, as good as Nelson turned out to be, it's a wonder why some other guys don't get the same fair shake. Anthony "Lionheart" Smith is currently in that boat.
The 26-year-old Smith has been a dominant middleweight since he was 19 years old. His record may not seem dazzling on the surface — he has gone 20-11 in his career — but what the record doesn't say is that until his 30th fight, he had never been to a decision. Prior to that, he was one of the only fighters in history to have gone over 25 fights without ever going the distance. This says a lot about a guy who has dedicated his life not only to the sport, but to the aspect that has led to the sport's meteoric rise over the last decade.
Smith finally went 15 minutes for the first time at Bellator 129. One might think it was a disappointment to go that far, even though he won, but that was not the case.
"When I fought Brian Green, my whole stand-up opened up, and people were like, 'What the fuck was that?'" Smith told Combat Press. "No one had ever seen me fight like that before, but there was still some room to grow.
"I did catch a body shot that toasted my cardio going into the third round, but then I think that was a positive thing. I don't think me going to decision for the first time with Brian Green was a bad thing, because I didn't know what would happen if I got taken into deep waters. There was always that question in my mind. I lived up to my nickname. A lot of guys would have quit. I dug deep and I learned a lot about myself in that fight. Now, I'm putting away Muay Thai champions on my feet. People are going to look back on this fight and say, 'This dude has predicted everything that happened.' It's going to be magical."
In his last outing, at Extreme Beatdown: Beatdown at 4 Bears 12, Smith faced a very accomplished kickboxer in the form of Andrew Kapel. Going into the fight, Smith had no idea who his opponent was or what he had accomplished.
About a year ago, Smith changed camps in his hometown of Omaha, Neb., and ended up at Mick Doyle's Kickboxing and Fitness Center. It's not a well-known gym on the national level, but it is a solid camp, nonetheless. More importantly, it was a change Smith needed.
"It's a totally different world and a totally different mindset," Smith explained. "They're not just content with me, you know, going, 'Great job! Great fight!' Before, it was never really about any mistakes I made. We never really looked at that. Now, it's never about what I did good. You know, it's, 'You get x number of days and then you need to be back in the gym, because we have things to work on.' We change up a couple of things after each fight, and I'm just trying to get better and better each time. It's definitely the smartest career move I've ever made."
One of the biggest changes in Smith's new camp is how they prepare for upcoming fights. Between Mick Doyle, Matt Bentley and Willie Stewart, the coaches at Doyle's gym know that they can't just manage a fighter's skills. They must also manage his mentality. The Kapel fight was a great example of sound preparation.
"It was the first time I fought a real elite striker, who was just a pure striker," Smith elaborated. "One of the things we've been doing at Mick Doyle's is that I stopped looking at fight film. It used to be that we talked about film so much that I started to get obsessed with people. That's how I was. I would watch it forward and backward, and by the time it got to the fight, I felt like I knew that person better than he knew himself.
"This time, the coaches just told me to go in there, hurt him on his feet, get a takedown and finish him quickly, and that's what I did. Afterwards, I watched a couple of his fights, and it turns out he's a pretty good Muay Thai guy with a couple regional titles around here as a professional and then he was over in Thailand kicking ass. Had I watched that before the fight, I would've fought him totally different. For the first time in my life, I went all-in."
Beating people anywhere is old hat for this young fighter — he has 18 finishes in 31 outings — but Smith really made a statement against Kapel. However, he still isn't feeling the love from the promoters.
Smith was a regional standout in the Midwest who entered Strikeforce in 2011. Under that banner, he knocked out Ben Lagman and choked out Lumumba Sayers, before suffering a huge setback against Roger Gracie.
It is no secret that Gracie is a great grappler, but he got the submission of Smith after jabbing him in the eye not once, but twice, which incapacitated the youngster. Fortunately, this was Smith's final fight before the Strikeforce-UFC merger, and the UFC matchmakers knew that he got dealt a bad hand in that fluke submission loss. The company brought him into the Octagon knowing the potential he possessed.
In his first UFC fight, which took place in June 2013, Smith got dealt another bad hand. His knee popped while he was trying to defend an kneebar by another BJJ standout, Antonio Braga Neto. The organization released him before he really had a chance to show what he's all about. The healing process was quick, and Smith was right back into the local circuit before year's end. Eventually, he was picked up by Bellator, and the rest was history… or so he thought.
After two wins in the Bellator cage, Smith was sidelined suddenly for no apparent reason. He hasn't fought for the promotion since the Green fight last October, and the promotion has nothing for him even five months later, hence the Kapel fight on the regional circuit.
"I don't know what Bellator's doing," said Smith, voicing his frustration. "I really don't. But I don't have time to sit around and wait. Not that I'm getting old, but I'm definitely not getting any younger. I don't think the world realizes what I've got going on here. I've got something really special happening that no one can see, and it's because I'm not getting the opportunities, you know?
"I understand that they're promoting their top guys, and they're trying to make money and go different directions to show they can be a profitable company, but they're missing out on real talent. And I know I'm not the only one. I'm sitting around chomping at the bit, and I know that there's not another middleweight in Bellator that can beat me. I'm this close to being a superstar. There was one thing missing and I found it. If you give me a name and a date, I will show up and beat that person. I will do that."
Restless and wanting to keep his momentum going, Smith is going outside Bellator for a second consecutive fight this Saturday night. He will be traveling to Harrah's Casino in Chester, Pa., to face TUF alum Tim Williams for the Cage Fury Fighting Championships middleweight title. He would rather tune up some Bellator guys, but there's nothing on the horizon.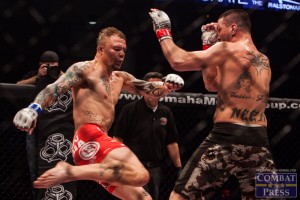 "If they didn't want to fight me — it's the same thing with the whole Strikeforce thing — if you don't want to fight me, I'll find somewhere else to fight, and that's what I did," said Smith. "I took a little bit of a pay cut, and I'm going into hostile territory to fight this guy in his hometown. I think I'm showing that I'll do whatever it takes to stay busy, and that's got to count for something.
"This is like the ninth best organization in the world, and some big names have come through there. Obviously, they think I'm good enough to come in and fight for the title, but I don't think they believe I'm going to go in there and walk through him. They're not going to bring me in to fight in his hometown if they think I'm going to do that, but, at the same time, I don't think anybody thinks they're going to walk right through me."
Williams may be 10-1 and slightly older than Smith, but the Nebraskan has the clear advantage in experience. He has been in some of the top organizations in the world and a fight against him is no walk in the park for anyone. That being said, Smith still isn't watching tape.
"My coaches do watch film, and they direct the training camp as necessary," admitted Smith. "If they do see something that is hard to explain, they will show me some clips, but it's usually like a footwork and timing thing, just so I see it and I know what I'm looking for. I'm sure he's tough. I heard he has a couple good wins. His only loss is to Dustin Jacoby, and he's a tough dude. I know Dustin pretty well. I've heard he's big and strong and pretty aggressive, but that's pretty much every middleweight who isn't a bum. He's got a pretty gnarly scar on his face that looks pretty badass. Really, I'm jealous of the scar. I hope he doesn't take offense to that, because I think it's badass and makes him look like a badass."
Smith is a true diamond in the rough, and it's a shame that the UFC bounced him so quickly and that Bellator hasn't found another fight for him. However, if he has to go to Pennsylvania to take out a TUF guy at CFFC 46 to get some respect, that's what he's going to do. He's not going to know much about Williams going into the fight, but he doesn't care. He will put his faith in Doyle's crew and do what he does best.
"Each fight, if you watch me, I'm getting progressively better," Smith wants fans to understand. "When I fought Victor Moreno — I would say Moreno's been my toughest fight since I've been in Bellator, but I was still in that transitional phase — I was still mixing all this new shit with all my old shit and I didn't have it all together, but I was better than I was the fight before."
Now that he's a little older and more mature, Smith has a new drive in life and in his career: his three-year-old and five-month-old daughters. They are the reason why he does what he does, day in and day out. If he wasn't driven enough already, he has something bigger than himself that he is now fighting for, and he is determined to get the respect that he deserves. That will be readily apparent at CFFC 46 this Saturday night.
"Regardless of what happens in my career, I want my kids to be proud of me."
Smith would like to thank Mick Doyle, Matt Bentley and Willie Stewart at Mick Doyle's gym, as well as his longtime BJJ coach, Scott Morton of Axios BJJ. He would also like to thank his family, DC Management and all of his sponsors, including Big Brain Tattoo, Lenny Renken, BB Roofing, Dr. Jason Untrauer, Shamrock Development, TMB Offroad, Caged Combat Wear, and Candlelight Lounge. Follow Anthony on Twitter:
@LionheartSmith
---
Advertisement

---