This… is… SPARTA!
Everyone knows this famous line for the movie 300. For some, it's just a quote. For others, such as Alex "The Spartan" Nicholson, it embodies all that it means to be a warrior and a true fighter.
Nicholson is a Florida-based fighter who recently turned professional and boasts a strong 4-1 record, with four first-round finishes. Even more impressive, those four wins have come in three different weight classes — middleweight, light heavyweight and heavyweight. Why would a fighter do that to himself? Nicholson couldn't help but laugh.
---
Advertisement

---
"Well, it comes with my eating habits really, and 185 [pounds] was too much," Nicholson chuckled while speaking with Combat Press. "I was too hungry. 205 was good because I could just eat whatever I wanted and monitor my weight. At heavyweight, I was just pounding food. It was a really cool experience and not a lot of guys have done that. My dad was talking to me and was doing some research and we don't know if anybody has done that, [first-round finishes] in three different weight classes, in all of MMA. I finished all of my other fights in the first round, so I can't really complain as far as that goes. As far as finding my home [regarding weight class], I don't know what weight I will fight at 100 percent, so whoever asks for it, I'll meet you there. If they want it, they can come and get it."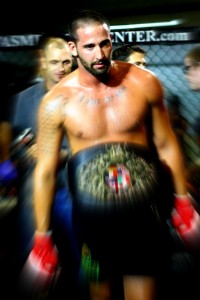 Nicholson is a breed of fighter that is willing to take on larger opponents or smaller ones in search of a fight. He already has his next bout lined up for March 28 in Pensacola against an undefeated monster in Dillon Cleckler. The bout, which is part of the Island Fights 33 lineup, will be his second fight in just three months. He just picked up his most recent victory on a Florida Championship Fighting card on Jan. 30.
"It was good to fight in my hometown," Nicholson said of the win. "I had a real respectful opponent, which I'm not used to. You don't come around too many of those guys in this sport. He was a real martial artist. It was a good fight and we went back and forth, and I walked away with the finish like I plan on doing with all my fights. I'm just grinding and [crossing] another speed bump down the road trying to get into the UFC, where everyone of us who isn't wants to be. I've just been blessed lately."
Nicholson grew up in Apopka, Fla. If you aren't from the Orlando area, you've probably never even heard of Apopka. Many fighters talk about how much their background and family life influence their decisions to become a mixed martial artist. In Nicholson's case, it was the area where he lived that really had the largest impact.
"It's just where I grew up, man," Nicholson explained. "I was the only white kid on the basketball team, so I learned to fight.
"I struggled growing up because I was a little outcast. I was the highest jumper on the basketball team, so I had a lot of 'haters,' I guess you would say as far that goes. Also, my dad was a Marine, a professional kickboxer and a bodybuilder, so I didn't really have much of a choice. I couldn't really take the fetal position and go home crying about getting beat up. I had to stand my ground and took a Muay Thai fight one day. Some kid was saying that he was tough and nobody would fight him, and I just hopped in there and fought him, kind of with no experience — just some little stuff my dad showed me — and it went well.
"I'd say where I grew up was definitely a big influence on me not being afraid to fight, because I had been in fights where you don't know what's going to happen out there. When you are in the ring, you think, 'How bad could it be?' You could just get knocked out. I am not going to get stabbed or shot, but it's life man. My life brought me where I am now and I am thankful for it.
"A lot of people have been lost from Apopka. I lost a lot of friends growing up and I am just here doing what I can do for them. Living life for those who can't. It's a blessing, man, going in and being able to do what you love to do every day. I can't complain about that."
It only seems fitting that Nicholson would hold a position as a trainer at the UFC Gym in Winter Springs, Fla. It was this job that led him to meet the woman who he refers to as his "Queen." That woman is Hannah Goldy.
"She came for a boxing match when I was over at UFC Gym Winter Springs and she just had a crazy fight," Nicholson recalled. "She just went at the girl and banged it out."
"He was in the corner of the girl I was fighting," Goldy, also speaking with Combat Press, chimed in.
"And then I saw her and I was like, 'This hot girl is about to get beat up,' [because] I thought the girl that she was fighting was a pretty good boxer and I just saw this little blonde girl and I was like, 'Damn, she's beautiful, but I don't know what's about to happen to her,'" Nicholson added. "Then I saw that she could fight too, and I was like, 'Damn, I am in love.'"
Goldy is not just another pretty face, contrary to popular belief. Going into her first amateur bout in January, she had already established herself as a force to be reckoned with, racking up three Muay Thai victories as well as one win inside the boxing ring. Goldy entered a whole new world when she strapped on the gloves for her first mixed martial arts fight.
"It was definitely a crazy experience, like I was telling Alex," Goldy admitted. "I definitely had an out-of-body experience, like my adrenaline was going crazy. I didn't execute my game plan exactly as I would have liked to, but it was a learning experience and it was definitely fun. The training camp was really tough and was the hardest training that I have done. I'm just excited to get back in there and hopefully take a win the next time I get in there, which is Feb. 28."
It's always interesting to see how women transition into MMA, especially one who started with Muay Thai.
"I lived in Manhattan before I moved here [Florida], and the first thing I ever did when I moved there was go to this thing they do called 'Friday Night Fights,'" Goldy explained. "Me and my dad went, and it was just in this old church and there was a couple guy fights and there was one girl fight. And I was like, 'That is totally awesome!'
"I signed up at a gym the next day."
It was all uphill for Goldy from there.
"I had a boxing match and then I had three Muay Thai fights, so my record before I started MMA was 4-0," said Goldy. "It was cool because when I first got into it, I didn't think I would start doing MMA for a while and then I feel like dating [Nicholson] definitely pushed me into doing MMA a little faster than I would have. It's different when you have somebody. He knows so many more people than I do in this sport already, so I had access to all of these amazing athletes and trainers and coaches that I wouldn't have had access to if I had never met him. So it definitely sped up my learning process a lot and just made me anxious to get in there."
This is not the first time a couple has been prominent in the MMA world. There is Miesha Tate and Bryan Caraway. There was Jorge Gurgel and Zoila Frausto. They made headlines for being a couple who fights together, but in a whole new way. The couples have an added benefit of not only being able to emotionally support their other halves but also to provide the physical support that they need.
"I help her out the most I can, and she really pushes herself and she gets it done," Nicholson boasted. "She pushes through hard workouts and she is self-motivated, but of course we are there for each other and we support each other the best we can, and we always will. Through ups and downs, we will always be there for each other. We work through techniques together. And when I have my down days, she keeps me up, and when she has her down days, I pump her up. We try to help each other out the best that we can and be as supportive as we can to take our games to the next level."
"It's really hard to take direction from your significant other, as I am sure a lot of people can relate to," Goldy added.
One of the most important things a fighter must have is a future goal. They cannot necessarily look past the next fighter, but they must have something to strive for beyond just the next victory. The "King and Queen" have it all laid out.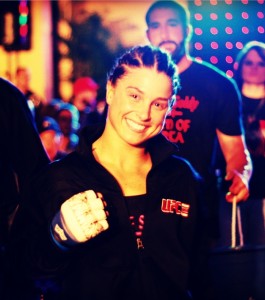 "Well, hopefully I will have Feb. 28 [at Breakthrough MMA 15 in Daytona Beach], and I'm trying to get on either Rise of the Warriors [on] March 28 or another card in Boca Raton [on] April 12 so I can get my first title fight in May back in the World Class Fight League," Goldy said. "I'm excited for some ground-and-pound action."
"She's going to get her fights in, like she said, and get her first ground-and-pound title fight," Nicholson added. "Just keep grinding, keep training and see what happens."
Obviously, Nicholson has a tough task of his own ahead on March 28, but he also has an eye on lining up additional fights.
"I am just waiting for that call," he confessed. "I am waiting for that big call. My dad has been in contact with a lot of people, and they are saying that they are going to get back to him soon. So I'm just dreaming big right now and, of course, I will take fights out there with anyone who really wants one. Opponents are becoming hard to find now and things have been going well, so I'm just sticking to the game plan and, of course, the UFC is the goal."
All of this almost didn't come to fruition. During his last couple of amateur fights, Nicholson started to lose his fire. It was apparent to fans and friends alike. His battle was occurring not in the cage. Instead, it was an internal struggle.
"I was going down a road that I had already gotten myself away from again," Nicholson revealed. "I started getting back into drugs and alcohol. I was going out partying. I had my amateur belts, like, 'Oh, I'm the shit. Look at me. I'm cool. I'm winning,' and I hadn't really done anything yet. You could be an amateur fighter and have it all, but you're not getting paid, except for your sponsors. It's not your job yet. Yes, you should take pride in that and keep moving forward instead of back. I got caught up down that road again and, honestly, when I met Hannah, it just got me back out of it.
"Moving here got me away from all those people. I cut a lot of people out and it helped me regain my focus. Just before her, I had just had that first pro fight and it was just kind of in and out. I trained for it, yeah, and a 37-second knockout and it was over with [snaps fingers]. Then, I went back to partying. And then I had that second pro fight and I didn't do the training I was supposed to and, of course, I lost. If you are not living the life, then the results are not going to follow.
"So, I got into a car accident and I was drinking and driving and I busted my head wide open — 48 staples on the inside and like 60-something stitches on the outside. I hit the dashboard, and they told me I should've cracked my skull and I should have died. I should have lost too much blood. And I was fine. I went to work the next day and I was blessed. Then, a couple months later, I met Hannah and I just changed my life around and stayed on that path and things have been all falling into place.
"Keep God first [and] your family first. If you're lucky enough, you'll get blessed with a good girl. Just keep dreaming and doing the best that you can, and the results will follow. If you want to do something, then do it. You gotta make things happen. You can't serve two masters. You either have to be focused and following the path that you want to do. There's no easy ways around that. You have to stay focused on that and take that. You can't wait for it. You have to go for it."
And go for it they have. Both fighters have truly embodied the "Spartan" mentality. It's even made its way into both of their nicknames.
"It was kind of funny," Nicholson recalled. "I was [in] high school playing basketball. The movie 300 had just come out, and I had a long beard and just a straight mohawk. The ball came off the basketball rim and I caught it and I just dunked the ball over a few people, and one of the dad's in the audience just started yelling, 'Spartan! Sparta!' And ever since then, I was 'The Spartan.' I loved the movie and I love their way of life."
For Goldy, it ended being more of a cute pet name that was turned into the fierce "Queen" that she has become.
"Ever since we met, he always called me his queen," Goldy said. "He always referred to me as that, which I think is super cute. It was funny, because one of the girls that I train with from a different gym was telling me that all of them referred to me as the 'Queen of Sparta.' It just kind of caught, obviously, and I think it's pretty fitting for us."
"It's because we are going to take over," Nicholson added. "I'm going to be the king of this sport and she is going to be the queen.
"People are naturally violent. And most people wish they could be. A lot of people talk a lot, and I feel like if that was the way of life, not a lot of people would be talking. If your consequence is getting a sword through you, then it's a lot different. I'd rather get thrown in the cage than get thrown into that other cage."
Alex would like to thank God, his friends and family for sticking with him through the ups and downs, and Hannah for helping him get his life back on track and always having his back. He would also like to thank his sponsors, Apex Cliff and Melissa Blum for all his supplements, Dr. Ben at Florida Physician Chiropractic, Jay and Beth at Hose and Hydraulics, and his friend Matt lancot. Hannah would like to thank her sponsors: Nutrisource Palm Harbor, Hose and Hydraulics, Toucans Bar and Grill, Apex Nutrition, and Team Physicians Chiropractic. She would also like to thank her friends and family for all the support, her training partners and coaches at UFC Gym Clearwater, World Class Martial Arts and Top Brother Florida. She would also like to thank to God for blessing her with the ability to be able to take part in this sport. Follow Goldy on Twitter:
@Hannah_Goldy
---
Advertisement

---