UFC. Bellator. The World Series of Fighting. Ask any MMA fan to name off current promotions and this is likely to be their reply. Hidden behind the scenes, though, are organizations such as Ring of Combat, which happens to be the former home of current UFC fighter Uriah Hall and reigning UFC middleweight champion Chris Weidman. This Friday, all eyes are on the 170-pound division, as Ring of Combat prepares to crown a new welterweight champion when Mike Winters takes on Randy "Rude Boy" Brown.
Brown will be fighting for his first title since going pro, a jump he made this past year after posting a 5-2 amateur record.
"I feel pretty excited, but no pressure or nothing like that," Brown admitted to Combat Press. "I am used to fighting 'better' competition and guys that are supposedly more experienced than me. I train with the best people in the world, in my opinion, so no pressure whatsoever. I'm ready and I feel great."
---
Advertisement

---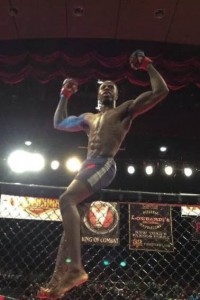 The 'better' competition that Brown is referring to is a direct reflection on his upcoming opponent, Mike Winters, who currently boasts over five times as many pro fights as Brown. It seems as though Winters has hit a rough patch, though, given that he is currently riding a two-fight losing streak going into this title contest.
"Actually, I think his morale is going to be pretty up because he is coming off two losses and he definitely doesn't want to lose to a guy who is only 2-0 and he has a lot to prove, I guess," Brown explained. "As for me, I have nothing to prove. I know what I am capable of. And when I go in there, I am just going to show him why I feel like I am the better fighter.
"A lot of guys think 'cause they have more fights they think that, 'Oh, I'm way more experienced and more skilled because I've been in there more.' But that doesn't mean anything. If you can fight, you can fight.
"If you look at dudes like Wayne Barrett from GLORY Kickboxing, that dude is in the same boat as me, pretty much. He's 2-0 as a professional and he goes into GLORY Kickboxing and he's fighting dudes that are ranked highly in kickboxing in the world with 20-something fights and he's making them look like nothing."
Brown is very comfortable in his current skill set and has showcased his determination to finish his fights. Unlike many fighters nowadays, he does not have the strong wrestling pedigree that fans usually see in mixed martial artists. Brown's skill set was not determined by desire, but by lack of choice and a will to survive.
"I didn't wrestle coming up. Jamaica has no wrestling programs and then I came back to America and went to school in Queens, obviously where it's more basketball and football," Brown chuckled. "I did just boxing. I have been boxing since I was a young age, pretty much all my life. I figured that I was doing pretty well. I competed in a few local tournaments and took first, and I felt like I can't take this very far. So I said, 'Let me try and go into this other sport.'
"I saw B.J. Penn fighting Joe "Daddy" Stevenson one time and I just got into it and said, 'Maybe I could try that.' Not to mention, my coach went away and I didn't really have a coach or someone to train me, and I was looking for boxing gyms and couldn't really get in anywhere that I wanted to go. So, I figured I would give this a shot.
"I went into a Renzo Gracie Academy in the city and I'm looking at these dudes in these gis and I'm thinking, 'I definitely could take these dudes.' I felt like I was — well, I was a boxer — I felt like it'd be easy to just muscle them around a little bit, and I was getting tossed around, armbarred left and right, and I got pretty good at it. [I] started doing some jiu-jitsu, got into some wrestling and stuff like that, and now here I am."
So, how does a Jamaican kid end up in Queens? The answer is quite simple.
"A lot of people actually think that I was born in Jamaica. I actually wasn't born in Jamaica; I was born in Springfield, Massachusetts," Brown clarified. "At a young age, my mom got deported and my dad was in jail, so I ended up — I wouldn't say that I was a problem child, but I had a lot of issues — so I got sent to Jamaica with my mom and I spent most of my time in Jamaica. I pretty much grew up in Jamaica and came back to America at about [age] 15 or 16, and I have just been going back and forth ever since. I represent Jamaica. I definitely represent Jamaica because that's where I was raised and my whole culture and everything that I know and all of my family is from Jamaica. I spent most of my life there, so that's pretty much what I represent."
Brown is very passionate about his time spent in Jamaica and how it shaped him into the man that he has become today. He also attributes his changes to the guidance he has received inside the gym or, more specifically, gyms.
"The main school that I train out of is Budokan Martial Arts Academy," said Brown. "There's not really much guys here, just a few guys. I do a lot of traveling. I train at the Renzo Gracie Academy in New York, and I also train with the guys at Long Island MMA and Bellmore Kickboxing Academy. Those are the main schools that I really train at.
"Basically, at Budokan, it's more of a family and everyone looks out for each other. That's where I do most of my training, and I get a lot of one-on-one attention from my coach. I'm one of maybe three fighters out here. Everyone helps me out, and I have everyone behind me because it's a team effort, it's not just me. There's so much that goes into me getting ready for my fight, so everyone plays an important role."
When it comes to coaching, Brown gives all the credit to one man who became more than just a coach to him.
"Sensei Nardu. He is there for me in and out," said Brown. "He is more like a father figure for me, more than anything else. He has been helping me since day one when I had no coach [and] when I had no direction. When I was trying to do something in this sport, he put me under his wing and really helped me out. I spend a lot of time in the gym. A lot of time here. Actually, most of the time, I live here. Well, you could basically say I live here. Sometimes, I sleep here. I am always at the gym.
"I wake up in the morning and I head out to jiu-jitsu out at Renzo Gracie Jiu-Jitsu, and I come back here and I am training and spending the day here. Then, I might go out again and might go box. Then, I come back and I am still working on my kickboxing. I am always doing a lot of jiu-jitsu. My successes in the cage definitely all come from here."
So, how does a fighter like Brown, who spends all this time in the gym and has such inspiration, end up with a seemingly misleading nickname like "Rude Boy"? Apparently, it doesn't mean what one would think.
"'Rude Boy' is more like a cultural thing," Brown explained. "When I say 'rude boy,' people think that I am mischievous or something like that, but it's just a cultural thing. You know, in Jamaica, people are always like, 'Hey rude boy!' It's a cultural thing and you have to be more immersed in the Jamaican culture to understand it. It's just the way I identify where I am from — Randy 'Rude Boy' Brown."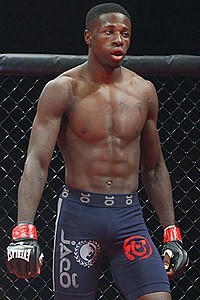 It seems as though the time spent in Jamaica really left a mark on Brown. Without it, he wouldn't be where he is today, doing what he loves.
"It definitely made me who I am," Brown admitted. "I didn't grow up in the sunshine part of Jamaica that you guys get to see on TV, with the beaches and all that stuff. I grew up in the ghetto, man. I had to walk a mile just to get some water. People would build up a wooden shack, like a one-bedroom with a piece of zinc for a door. Like sheet metal zinc for a door, and that's what we had for a door. No lights, candles, that sort of thing. Growing up in that type of environment definitely shaped who I am now and made me hard-nosed and feel like I can overcome anything because of the things that I have been through in Jamaica with the violence and all that shit."
And Brown isn't just a fighter. He is also a father.
"I had a son when I was about 19," he said. "I tell you, man, I make so many sacrifices just to do this, and it's insane the amount of work you have to put in and the amount of things that you have to give up. Not to mention, I got a son. I have to do what I have to do. On top of that, still having to make sacrifices and sometimes people look at you a little funny like, 'Why are you doing this? You should be doing this.' People are not really going to understand you chasing a dream to make life better for you and your family. It's starting to pay off. He's in the gym with me sometimes, and it definitely motivates me to work hard and do what I gotta do."
The "Rude Boy" will take that motivation with him when he takes on Winters this Friday at Ring of Combat 50 for the vacant welterweight title. All eyes will be on him, and he plans to deliver.
Brown would like to thank his head coach Sensei Nardu Debrah, his boxing coach Tyrone Credle and the entire Budokan Martial Arts family. He would also like to thank David Branch, Matt Culley, Keith Trimble of Bellmore Kickboxing, the entire LMMA (Long Island MMA) family, all of his sparring partners that helped him prepare and Kid Flash. Brown would also like to thank his sponsors: Battlescar Management and ShopMixology Clothing. Follow "Rude Boy" on Twitter:
@TouchNgo_
---
Advertisement

---