Resurrection Fighting Alliance's Ricky Musgrave has 17 total fights on his record, but he is still fairly young into his MMA career. He just started fighting professionally a little under four years ago, and he feels now is the right time for his career to move toward the next level.
In Alvin Robinson, Musgrave feels he has found the opponent that can get him there. He understands what is at stake when he steps inside the cage Friday night.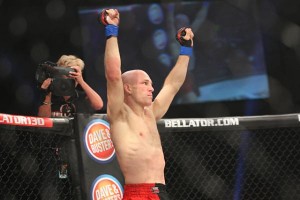 "This could be one that can makes or breaks my career," Musgrave told Combat Press. "Alvin is a veteran of the big show and everything. He's an athlete [and] a good wrestler, and definitely this is the toughest fight of my career. It can definitely advance my career if I beat him in an impressive way. This is something I really want — a goal that I look forward to beat and advance myself and career."
---
Advertisement

---
If you take a quick glance at Robinson's and Musgrave's professional records, the one thing that quickly stands out is the amount of years the Grudge Training Center product Robinson has been in the game. Though their records and amount of fights are very comparable, it is hard to dismiss that statistic, especially considering the level at which Robinson has fought. Given that obstacle to overcome, Musgrave still feels once the cage door closes he has more than enough tools and his own MMA experiences to carry him to victory.
"I feel confident," an emphatic Musgrave said. "I'm confident in my skills. I am confident in my camp, my coaches and my training partners. All the way, all through it, I am very confident I have what it takes."
As mixed martial arts has evolved over the last 20 years or so, the submission specialists come around with less frequency than they did in the early days. An argument can be made that Robinson is one of the few true specialists left in the game at a high level. Of his 14 wins, an impressive total of 13 have come by way of submission.
"I'm aware of that," confessed Musgrave. "I do a lot of ground work myself, and I am confident in my ground game. I have good defense. One of the biggest things is keeping myself out of danger — staying away from his submission and defend them when I can. It is something we have been looking at and we understand that."
Unlike most submission specialists, Musgrave's opponent has a high submission rate — 75 percent — in his loss column. That is a high number for someone as decorated as Robinson is on the mat, and most opponents would look to capitalize on those mistakes. Musgrave is not putting too much emphasis on it, though. He is just going to take on whatever heads his way come fight night.
"I have things that I think about when I go out there," he admitted. "I don't have a game plan, like I am going to take him down or I am going to keep it on the feet. I let the fight happen. I feel like I am a well-rounded fighter, so it doesn't matter where the fight goes I just need to be the best fighter I can be. If it goes to the ground, then I need to either reverse him or stand up. If it [is] standing, I just need to stand with him. Where it goes, I am confident in my skills because I am an MMA fighter. I am a well-rounded fighter and wherever it goes I am ready to go."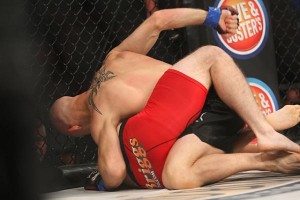 It might have caught some people by surprise when the RFA announced it had signed Musgrave. After all, he had a successful run during a two-fight stint with Bellator. He fought for the organization as recently as this past October and finished both of his opponents in the first round. So, why did Bellator's new regime opt not to re-sign him?
"Bellator likes me and I like Bellator, but they said they are not signing anybody right now," Musgrave revealed. "They basically said, 'You can fight for us next year or move on,' and I am not going to wait to fight, so I am just going to move on. I am happy to fight for RFA; [I am] really excited and I can't complain. They want me and I want them. Nothing really happened, it's just for whatever reason Bellator is not signing anybody right now."
Whether he is fighting for Bellator or the RFA, Musgrave is not changing the way he is approaching his career. It's one fight at a time. If he keeps winning and putting on exciting performances, he will get to where he wants to be in no time.
"I don't look at the next fight. I don't look at that. I'm looking at Alvin and that is it. I never look ahead, and I never want to look ahead. 'One fight at a time' has always been my motto. Let's look at Alvin first, and then after Alvin we'll see what is next."
---
Advertisement

---