Sean "P-Town" Wilson is no stranger to the Omaha, Neb., mixed martial arts scene. Nearly 15 years ago, Wilson, now 32 years old, made his professional debut. He has gone on to compete in nearly 60 fights. Now training out of Visible Impact Fitness, Premier Combat Center and Mid-America Martial Arts, the Papillion native is putting recent adversity behind him. He's ready to return.
"After my layoff, I just wanted to fight a couple more times," Wilson told Combat Press. "I can't explain why. It's just in our nature and hard to give up."
Nearly seven months ago, Wilson and a friend were in a motorcycle accident. The accident claimed the life of Wilson's friend and left Wilson with a substantial head injury that required 40 staples. In reflecting on the accident, Wilson says he feels lucky to be alive.
---
Advertisement

---
"It was easily the scariest night of my life," the fighter admitted. "Out in the middle of nowhere at midnight, with no phone and bleeding all over, some trucker happened to find me and I got life-flighted. Every doctor there said I don't know how lucky I am to be alive and not break anything."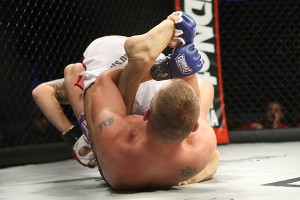 Wilson says the accident changed his life and helped him re-focus his priorities.
"I'm just happy to be able to fight again, to be alive, be with my kids," he confessed. "The accident really changed me a lot. I work, go to the gym, and hang out with my kids. That's my life from now on."
Wilson says he feels great. He has been taking his upcoming fight seriously, something he didn't always do in the past.
"Old, dumb, crazy Sean is no more," he proclaimed.
The old Sean had a rough 2012. After starting the years with two wins, he found himself with a string of losses that extended in 2013 and put him on a five-fight skid. However, he turned things around in late 2013 when he earned first-round submission victories over Keith Collins and Robert Rojas Jr. Throughout his career, Wilson has gained a tremendous amount of experience in competition.
"I've had a lot of tough opponents," he recalled. "I don't know who's the toughest. Clay French, James Krause, Johnny Case, Drew Dober—the list goes on."
And while Wilson is the more experienced fighter, he's not looking past his next opponent, Ramiro Hernandez. The two men are set to square off at Victory Fighting Championship 44 in Omaha on Dec. 13. The 28-year-old "Junior" Hernandez holds a 15-6 pro mark and has graced the Octagon on two occasions.
"My opponent is very experienced," said Wilson. "I'm expecting the fight to be exciting and fast-paced. I'm expecting a W somehow, some way. Junior is tough. It will be fun, so bring it on."
Wilson admits there is more motivating him in his fight than just a win. After all, the winner of this bout will have an opportunity to fight for the VFC bantamweight title.
"That's my goal, to get a title shot."
Wilson would like to thank anyone and everyone who has helped him prepare for his upcoming fight, including everyone at Premier Combat Center, Mid-America Martial Arts and Visible Impact Fitness. He would also like to thank everyone who has believed in him after the accident. But mostly, Wilson would like to thank his children—Brody, Ellie and Madison—for putting up with "daddy's gym time."
---
Advertisement

---