When you are a high school wrestler, you have few options in transitioning into your adult life. You can go to college and wrestle, or you can try to achieve your dream of wrestling for your country's national team in hopes of making the Olympics. Another option available is to take the skills you have learned on the mat, mix in some other types of fighting styles and make a career out of it. That career path is called mixed martial arts, and that is exactly the route taken by Resurrection Fighting Alliance's Joe Murphy.
"It started with high school wrestling. Then, a couple years out of high school, I still had that competitive drive, so that is when I started to train in jiu-jitsu," Murphy explained to Combat Press. "I did a couple of tournaments. And after jiu-jitsu class one day, I saw a couple guys put on some gloves and start beating each other up. So I just started trying what they were doing. Then I signed up for a couple fights. It all started as a hobby, but now here we are."
On Friday night, Murphy hopes to take the skills he has learned over the years into his debut fight for the Resurrection Fighting Alliance and get the win over Brazilian Jiu-Jitsu wizard Bruno Frazatto. Frazatto and Murphy have similar records, but Murphy feels he will have the upper hand.
---
Advertisement

---
"I just think I am going to be more game on the feet," he said. "I have seen a lot of videos and stuff. He knows what he is doing. He definitely is a good striker, too, but I just feel that I will be a little tighter. Everything will be a little more on point for me there."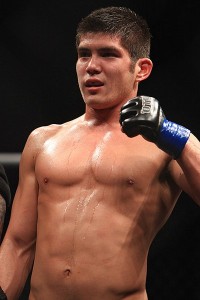 Up until this fight, which takes place at RFA 21 in Costa Mesa, Calif., Murphy's biggest fight came under the World Series of Fighting banner when he took Carson Beebe the distance and lost by a controversial split decision. The verdict was so controversial, in fact, that after the fight WSOF President Ray Sefo said that the judges got it wrong and Murphy should have won. However, that loss does not sit heavy over Murphy.
"I was right back in the gym, waiting for something," he admitted. "I think I was suppose to be on the next World Series of Fighting card [WSOF 4] and I had an injury happen during training. I kept my focus, but the injury was the biggest setback. The loss just made me more hungry."
That hunger will show when he steps into the cage for RFA on Friday.
"This will definitely be my biggest [fight]," said Murphy. "World Series of Fighting was cool and it was in Vegas, which definitely was something that I wanted to cross off my list of things to do. This card is televised, I am on the main card, and I am also in the co-main event. This one is a lot bigger in the scheme of things, and it's right in my backyard. All my people will be there. I will be able to sleep in my bed and just be comfortable. I think it should be a really good experience."
When it comes to fighting in his home of Orange County, nerves will not be an issue for Murphy come fight night.
"It's another day at work," Murphy shrugged. "Just got to get ready. It'll be nice, too, because it will be one of the later fights. I can kind of feel out the crowd, see how the vibe is, the whole atmosphere. I can get use to it. I will have plenty of time to warm up and plenty of time to game plan and get in there and get to work."
Joe would like to thank everyone who has tickets, everyone who is going to buy tickets, and everyone who is going to watch. He would like to thank everyone for the support and love. Follow Murphy on Twitter:
@jsmurf135
---
Advertisement

---