The "Mexicutioner." The "New York Bad Ass." The "Assassin." These are all monikers of professional mixed martial artists who showed up at a high level, did okay during their respective UFC runs, and, eventually, fell off the map and into the lower-level promotions. So, what is anybody to expect from a guy whose nickname is "Cuddly Bear"?
Well, for starters, people really can expect a warm-hearted, friendly, gentle giant who surprises no one who learns of that nickname. Then, the cage door closes, the switch flips and the "Cuddly Bear" suddenly looks like a grizzly bear that hasn't eaten in months.
Josh "Cuddly Bear" Copeland has been a local MMA star in the Rocky Mountain region for a little over two years now. He's 9-0 as a pro, including a recent RFA heavyweight title win. After suffering a TKO loss in his first amateur appearance back in 2010, he hasn't tasted defeat again.
---
Advertisement

---
Copeland's record looks anything but cuddly. As a pro, he has submitted four opponents, knocked out three, and only gone to decision twice. Watching him fight is a real treat. He's calculating, powerful, and extremely accurate with both his striking and his grappling. In his last fight with Jan Jorgensen, he made sure the UFC would take notice. It helped that he received a little tip about who would be watching.
"When I picked my manager up from the airport—he flew in from Miami—he showed me a message from Joe Silva: 'If Josh wins this fight in dominant fashion, we're sending over a contract.' So, that not only put a little extra pressure on me, but I kind of knew, when the fight went the way that it did, that I was probably going to get the call," Copeland told Combat Press.
Entering the fight with Copeland, Jorgensen was an undefeated prospect from The Pit Elevated in Utah. He was a record-setting college football star, too. It took Copeland less than five minutes to dispose of his formidable opponent by TKO. The experience happened very quickly and, just like that, he got the call.
"Is it really happening?" Copeland recalled thinking. "It was definitely, kind of, shock, excited, you know, all the good feelings. To make it to the UFC—there's around 40 active heavyweight fighters in the UFC, so it's definitely an honor to be in that mix. Hopefully, I'll be able to go out there and show that I can hang with them, too."
With just over two years as a pro, Copeland has finally landed in his proverbial dreamland. His Octagon debut comes on Saturday night when he and Ruslan Magomedov headline the preliminary card of UFC Fight Night 57 in Austin, Texas.
Magomedov is definitely going to pose Copeland's biggest challenge yet, no pun intended. The Russian fighter, who trains out of Jackson's MMA in Albuquerque, N.M., is a dangerous kickboxer who has spent time training at the Fairtex camp in Thailand. He is 12-1 as a pro and has a four-inch height advantage over Copeland. However, Copeland recently moved his camp to a great gym with a bunch of top-level coaches and training partners. With him came his own dynamic Muay Thai coach, Bryan Youngs, who formerly led the kickboxing classes at Grudge Training Center, also in the Denver area.
"Training's so far, so good," said Copeland. "I've been training at Factory X [Muay Thai] for the past four weeks now. I've been down there, and that's been good. They have a really good team atmosphere down there, and a lot of taller guys like my opponent that's coming up. It's been nice to get some work in with them.
"Bryan's my head striking coach, so, wherever I go, I plan on bringing him with me. He's definitely very impressive and a great guy to learn from. To me, he doesn't just say the right things, but you can see him do it in the way he trains. The crazy things he shows you, he does it and pulls it off every time he spars and moves around and stuff."
In addition to Factory X, Copeland also spends time at 303 Training Center, primarily hitting mitts with Youngs, as well as Easton Training Center, home of the Elevation Fight Team and several UFC fighters, including Brandon Thatch and Cat Zingano. In addition to getting some of the best training Colorado has to offer, Copeland was able to hook up with an old friend on a recent trip to Texas.
"Not last week, but the week before, I was down in Texas for Justin Wren's wedding, and I spent about a week at Team Takedown with Jared Rosholt, Johny Hendricks and those guys," Copeland explained. "I was very impressed with them, and they told me if I ever want to come back, they'll make it happen.
"So, with having Justin down there, I look up to him, not just as a good friend, but, I mean, he's the one who got me into this sport. I almost look up to him, maybe not as a father figure in the sport but like a brother and someone that's like-minded. We feed off each other so well, so I'm sure I'll be going back down there and getting some work in with him and Team Takedown also."
Many people remember Wren from season 10 of The Ultimate Fighter reality show. However, not everyone knows what happened to him afterward. When the season ended, the former two-time national champion wrestler fought a few more times before deciding to clean up a drug-riddled life. Wren became a Christian missionary fighting for the Pygmy people in the Congo. He just recently came back to Texas from his mission, and Copeland was there to see his friend tie the knot.
The extra training at Takedown was just another arrow in Copeland's quiver as he prepares to battle Magomedov. Magomedov has only suffered one career loss. The 27-year-old Dagestani fighter entered the UFC after notching decision wins over Mike Hayes and Tim Sylvia, and he continued his streak in his Octagon debut with a judges' nod over Viktor Pesta.
"I looked up as many fights as I could on him," said Copeland. "He seems a lot like me. He likes to stand and fight. I mean, he's a good counter-striker. He's got a good lead-leg left kick that can go low or high. So he's definitely going to add a new element of danger that I haven't faced with other heavyweights. Needless to say, Bryan's been kicking at me a lot, you know? I'm trying to get used to that and the timing—just the reaction time of when the kicks come."
In addition to the dynamic striking attack of the Russian, Copeland is also preparing for a distance fight, which is something he is not as accustomed to but is something Magomedov has experienced in six of his last seven fights.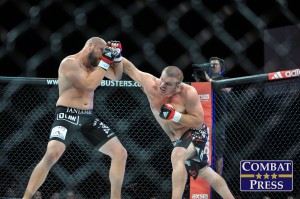 "The biggest challenge, to me, is the cardio," admitted Copeland. "He's a heavyweight, but he's a tall, skinny guy. He's got cardio, and something like eight of his wins have come by decision. He's used to going to the third round and winning that battle. I've only been to decision twice. I'd rather finish the guy and leave it all out there than have a boring, third-round fight. It is what it is, but I'm definitely going to go out there and try to finish him."
Copeland is not a boring fighter. Jorgensen can attest to that firsthand. This is one bear that will not be looking to cuddle up to anybody come Saturday night, except his wife and toddler son when he gets back home.
"I've got my wife, and my little 16-month-old boy is getting more and more alive every day, you know?" Copeland said. "He's been the highlight of our lives—just getting to watch him being more and more interactive and being able to love on us and hanging out. He's always smiling. It's fun."
Anybody who knows Copeland outside of the ring knows that he is a great guy, a family man, and has nothing but love for family and friends. Unfortunately for Magomedov, Copeland is going to be dishing out those bear paws with reckless abandon as he tries to make a big splash in his UFC debut. Fans will not want to miss this one, as he steps into the cage for the 10th time in his professional career at the Frank Erwin Center in Austin at UFC Fight Night 57.
"I think anyone who saw my last fight knows I'm not going to go out there and try to just win a decision," Copeland said. "I'm definitely going to try to go out there and finish him. I don't want to sound like the normal saying of 'be ready for fireworks and blah, blah, blah,' but I'm definitely going to go out there and work on getting his timing down and capitalizing when I get on the inside. The game plan is definitely to finish him. I'd rather go out there and leave it all on the table than win a boring decision. That's not what the fans want to see. That's not what I expect from myself either."
Copeland would like to thank Bryan Youngs, Marc Montoya of Factory X Muay Thai, and his strength and conditioning coach Loren Landow, as well as all of his other coaches and training partners who have helped him prepare for his UFC debut. He would also like to thank his wife, son and all of his other family and friends for making this all possible. Also, Josh wants to send a shout-out to his sponsors: Red Rooster Cafe, Rolling Plains Construction, Frontiere Natural Meats, The Outpost Complex, Integrated TSK, Training Mask, Dynamic Fastener, Hayabusa, Eating Primal, and Sicarius. Follow Josh on Twitter:
@joshcuddlybear
---
Advertisement

---