Where is Jessica Eye? That's a question some fans may have been asking themselves these last several months. Well, the answer is simple: She hasn't gone anywhere.
"With having eight and a half months off, I have had time to settle some things in my personal life and I have had a chance to re-fall in love with my training and re-fall in love with the sports that has consumed my life in every single way," Eye told Combat Press.
The last time we saw Eye in the Octagon, she was battling Strikeforce veteran Alexis Davis. That fight took place in February and marked Eye's sophomore UFC outing. Eye lost a close split decision to Davis. It was her second setback as a UFC fighter.
---
Advertisement

---
"What hurt's most with that loss is I didn't fell any pain. I didn't feel beat up. I didn't feel like a loser. I feel like that wasn't a loss," Eye admitted. "Physically, my body felt fine. I felt more like a loser towards myself because I didn't go out there and take the win like I know I could have."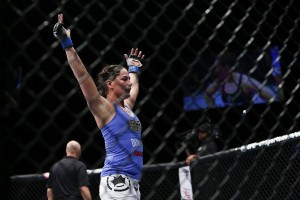 The loss was a hard pill to swallow. She had seen her Octagon debut against former Strikeforce women's bantamweight champion Sarah Kaufman change from a win to a no-contest after Eye failed her post-fight drug test by testing positive for marijuana. After the February loss to Davis, Eye took a step back.
"I wasn't in the right mind set," confessed Eye. "I was kind of angry all the time, just really not in the right spot. I think that over the nine months I've had a chance to get a better understanding of my diet, get a better understanding of my training and how I want it to go. This is actually the best nine months I've had ever in my years of training in MMA"
On Saturday, Eye will look to put those past two fights in the rearview mirror. She's set to meet Leslie Smith at UFC 180 in Mexico City.
When it comes to her next opponent, Eye feels that Smith will not be bringing in a new bag of tricks but she also is not over looking Smith either.
"There is nothing you can be surprised with in woman's MMA, especially at our level, because we are so close, so neck and neck. But she is a durable girl," said Eye. "She knows how to fight. She knows how to weather the storm. She knows how to go three rounds, and so do I. I also have a lot of finishes and a lot of TKOs. And at this point, I feel that I am the better fighter. I am looking to bring it and I am looking to finish."
Eye has a lot to prove. Her first UFC win was snatched away from her due to a failed drug test. Her second UFC fight ended in a close loss. Now, all she wants is a memorable win. If she gets it, fans won't be wondering where she is. She'll be in the middle of that Octagon with her hand raised.
---
Advertisement

---