Complacency, noun: a feeling of being satisfied with how things are and not wanting to try to make them better.
In the world of mixed martial arts, it's easy for fighters to get lost in the daily routine. Wake, train, sleep. Rinse, repeat. Sometimes the repetitive nature of the sport swallows fighters before they even realize it.
Colorado's Neil Magny has been down that road. The 27-year-old welterweight had to fall before he could get back up.
---
Advertisement

---
"I worked so hard to get to The Ultimate Fighter and my loss to [Mike] Ricci was only my second loss ever as a mixed martial artist. Losing two fights in a row definitely made me question if I made the right choice. Should I be a fighter? Is this really what I should be getting into?" recalled Magny while speaking with Combat Press.
"I had a moment where I sat back and tried to decide if I should focus on MMA or law enforcement. Where do I go from this point? I sat back and waited and sure enough, I got a call from [UFC matchmaker] Joe Silva to fight."
Magny's journey to the sport's highest level had its fair share of twists and turns. Born in New York and schooled in Chicago, the fighter spent seven years in the Army, earning the titles of All Army Combatives champion and All Guard Combatives champion. Yet, even during his service, Magny could not escape his love for martial arts.
"Martial arts and MMA in general helped me get my mind off a lot of other things," he explained. "When I was deployed, my favorite part was to go to the gym and train with a couple other guys, grappling and striking, just to get my mind off the day."
In Chicago, Magny wrestled in high school, before training under the tutelage of former WEC bantamweight champion Miguel Torres at the age of 17. Magny reached the rank of purple belt under Torres and Andre Leite, but he ultimately decided to move west to Denver to further his fighting career.
"Training with Miguel in Chicago was a different style of martial arts, a different way of training. Chicago was great, but I felt like I needed more. As far wrestling and striking goes, I needed different looks, different training partners," said Magny.
"Being in Colorado definitely provides me with that. I was able to get Nate Marquardt as a mentor to guide me along the way. It's been good to be out here in Colorado."
Magny has capitalized on his time with Marquardt and the rest of the Elevation Fight Team. While his countless hours in the gym with Leister Bowling and Christian Allen have made him evolve as a fighter, it's something else that has helped turn a two-fight skid into a four-fight winning streak.
"Having strong faith and believing in myself has guided me in the right direction," declared Magny of his recent success. "Before, when I was going into a fight, I had so many things going on inside my mind. I was worried about getting cut if I didn't perform like the greatest fighter ever. I was worried if I didn't fight a couple times a year that I wouldn't make ends meet. I was letting the outside pressures affect the way that I fought. I got to a point where all I had to worry about was just trying my hardest, how I train and how I fight that night."
Magny's current winning streak began in February at UFC 169, when he bested Gasan Umalatov by decision. He followed that up with another win on the scorecards in May against Tim Means, before knocking out Rodrigo de Lima in June. Then, in August, he edged Alex Garcia in a hard-fought battle.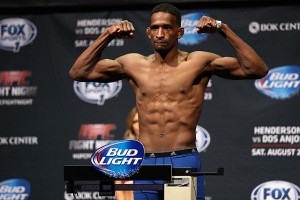 "Garcia was definitely a step up in competition, but one thing that I was disappointed with myself about was that I quit reacting to the fight. I started thinking more," admitted Magny. "In the first round, I was reacting and I controlled the entire round. But in the second round when he came out and showed me his leg was injured, I started thinking more about that injury. I just started thinking too much and reacting less. It affected the way things went in the last two rounds."
Regardless of Magny's self-criticism of his performance against Garcia, his four straight wins is nothing to take lightly. At UFC 179 on Saturday, Oct. 25, he'll have the chance to do something that only one other fighter has done in a calendar year with the UFC: win five straight fights.
"I'm so grateful for it," he said of the opportunity. "Winning five straight would show how hard I work. I don't think another fighter has done that yet in the UFC. Setting that record would just open the door for me to do great things within the organization."
If Magny does pick up his fifth straight win in 2014, title talk may not be far off for the TUF veteran. Yet, he's quick to temper those expectations.
"Title contention is something that's in the back of my mind, but it's more of a long-term goal for me," he admitted. "I'm just working on becoming a better fighter, fight by fight. I'm focusing on all the small things I need to improve on to help me win when the opportunity does come up to fight for the title, but to also hold onto it for a while."
Magny's fight on Saturday takes place in Rio de Janeiro, Brazil, against William "Patolino" Macario. It marks the second time Magny has traveled to Brazil to compete, but his fight against Sergio Moraes at UFC 163 didn't go as planned. Now he's looking for redemption.
"The biggest thing is that I'm not letting myself get caught up in the drama of fighting in Brazil," said the fighter. "I fought there once before, so I know the crowd is going to get excited. They're going to chant that they hate me or they want me to die. [I'm] just keeping that in mind and not worrying about them."
It's more than just the crowd Magny will be looking to overcome in his return trip to Rio. He's looking to avoid beating himself.
"One of the things my coaches have me working on is just being the best fighter that I can be and making me a problem for other fighters," he explained. "They have to worry about my range, my jab, the things I'm going to do to them, not the other way around.
"In the Sergio Moraes fight, I got caught up thinking, 'Oh, man, this guy's a great grappler. What do I do if I go to the ground with him?' I gave him too much respect. If it goes to the ground, I just need to react to it and do whatever it takes to get back to my feet and win the fight. Having that loss has helped me focus more on having my opponent worry about me, than me worry about him."
One thing Magny knows heading into the fight with Macario is that he'll have a reach advantage over his Brazilian counterpart. Magny's wingspan checks in at 81 inches, which rivals that of light heavyweight champion Jon Jones and heavyweight Stefan Struve. It's just a matter of harnessing his asset.
"It's great," Magny joked of his long frame. "Working with Christian Allen, I've been learning how to use that reach, staying in range and doing damage to my opponent, but not taking hits myself. That's a great advantage, not only for the short term, but also for the long term in my career. The less damage I can take, the longer I can fight."
Not taking damage is not Magny's only goal against the power-punching Macario on Saturday night. He is looking to make a lasting impression.
"I'm back at it again and I've improved from my last fight," he stated. "I'm out to give the fans a fight they can enjoy and a fight they can remember."
If Magny earns his fifth straight win in Brazil, it'll be hard to forget what he's accomplished in 2014. And to think, he almost walked away from it all.
Neil would like to thank his sponsors: TRX, Training Mask, Venum, Dethrone Royalty, Versa Climber, Topps Cards and Planet Green, and his management at KO Reps. Follow Magny on Twitter:
@NeilMagny
---
Advertisement

---