There's nothing quite like the feeling of walking through the front door of your home after a hard day at work. Whether it's kicking off those shoes, loosening that tie or throwing down that bag, it all brings a sense of relief.
Like the rest of us, professional fighters have their home. They have their abode. But there is another place that they treat exactly like their home. It's the place that they dedicate their life to. It's the place where "going to work" has a meaning all its own. That place is the gym.
The gym is where dollar bills are earned. Sure, they are actually paid come fight night, but you don't get paid if you don't earn it. Matt Wagy found out firsthand what it is like to find a new home away from home. When he stepped through the doors at Team Alpha Male, he never looked back.
---
Advertisement

---
Being home never felt better.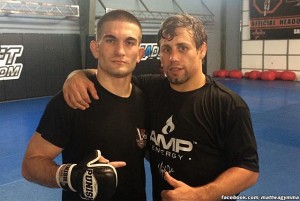 "It's the best gym in the world. We've got Urijah [Faber], Chad [Mendes], Joseph Benavidez," Wagy explained to Combat Press. "I made the move after spending some time here and I couldn't be happier. It's the best gym in the world and it's an honor to be a part of it.
"Mostly it's the attitude—the personalities of all the guys. Everybody is really cool. We get on the mats and kill each other, then afterwards everybody is friendly. There's no drama. Everybody is in the family. It's an awesome gym, man. I couldn't be happier to be a part of it."
Although he is just 23 years old, Wagy has a long history as a martial artist. As early as he can remember, he was practicing aspects of martial arts that would shape his journey in becoming a fighter. Over 10 years ago, he started training at one of the world's most renowned gyms.
"I started doing judo when I was seven years old. I began at American Top Team when I was 11," Wagy revealed. "I did jiu-jitsu, wrestling, went to MMA and eventually went to Team Alpha Male earlier this year."
With the move from American Top Team to Team Alpha Male, Wagy has made vast improvements in his skills as a professional fighter. His confidence has also been given a boost.
"Drastically, man," Wagy confessed. "Duane Ludwig, T.J. Dillashaw and all the other great fighters at Team Alpha Male push me and help me so much."
As he headed into his last bout, which took place on Oct. 5, Wagy was coming off back-to-back losses and his record was sitting at the .500 mark. He had started his pro career with two TKO victories, but he had faltered against Ricardo Palacios via TKO in December 2013 and suffered a submission loss to Tony Boyles in August. If there was ever a time that his back was against the wall, it was before that October fight with Kurt Weinrich.
Wagy walked away with the win and took a title in the process. It gave Wagy some renewed confidence. Now, he's looking forward to his next bout.
"It was amazing, man," Wagy exclaimed. "I know that I'm a much better fighter than my record indicated, and I still am. I'm looking forward to continuing to rebuild my career by beating this guy up."
The next logical step for Wagy's career was to get his chance at competing on a nationally recognized stage. Titan Fighting Championships has proven to be a stepping stone for up-and-coming fighters and veterans alike, and the promotion has provided Wagy with that stage for his upcoming bout against debuting pro William Sizemore.
"Titan FC is a great promotion with a lot of very tough fighters," Wagy said. "They're on CBS Sports Network, so there's great exposure, too. It's a top-notch promotion from top to bottom. I'm really excited to fight for Jeff [Aronson] and Lex [McMahon]. Those are both great guys."
When Wagy enters the cage on Oct. 31, it will have been just four weeks since he last competed. But if you aren't fighting, people aren't talking about you. With the biggest opportunity of his young career in front of him, Wagy doesn't view stepping up again without much of a rest as an issue at all.
"Yeah, man. I got out of my last fight pretty easily—no injuries—and I know I'm better than this guy," Wagy said. "I'm going to go out and prove it. [Winning] would be great. Every fight is the most important fight, so getting this win would be huge for me right now."
---
Advertisement

---