Who doesn't love a good grudge match? Well, beside the recent B.J. Penn, the old Tito Ortiz and, basically, the entire UFC lightweight division during the whole Frankie Edgar-Gray Maynard saga. Grudge matches usually make for exciting fights, at least from a marketing perspective, and they can take place at any level of any sport. Sparta Combat League has a big middleweight grudge match tomorrow night, and this one has teeth.
A year ago, following back-to-back losses to Factory X Muay Thai teammates Chris Holland and Gilbert Smith, Grudge Training Center's Jason "The Dragon" Lee got back to his winning ways with a 50-second TKO of Vernon Earwood. He followed that up with a decision over Jeremy Hart in April. Bringing Lee's record to 7-4, the win over Hart earned Lee a shot at the SCL middleweight strap. His next opponent was on a much different path.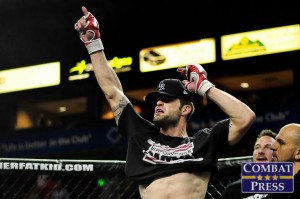 Last October, Factory X's Adam Stroup was trying out for season 19 of The Ultimate Fighter after accumulating a four-fight winning streak against similar regional opponents. He bypassed a shot for the SCL belt to tryout for the UFC's flagship reality show.
---
Advertisement

---
Stroup's attempt to make it onto TUF ended with some tough luck, as he drew one of the toughest competitors in eventual season finalist Dhiego Lima in his bid to get into the house. After losing to Lima in a hard-fought decision, contractual obligations benched the fighter for several months. Lee was building momentum while Stroup was stuck in idle mode. By July, the caged animal was ready to eat.
On July 18, Stroup and Lee faced off in a very hyped affair at the Douglas County Fairgrounds in Castle Rock, Colo. After a ton of build-up, people expected a gruesome war, but the bout was marred with drama.
Early in the first round, an inside leg kick from Stroup clipped Lee's cup, pausing the action. Lee shook it off and the fight quickly resumed. However, in the second stanza, Lee again cried foul, and Stroup was reprimanded for what he felt was a clean shot. The action again resumed with both fighters still looking fresh, only this time, when the action hit the cage, Stroup laid heavy leather and knees, earning a TKO at 1:29 of the round. That was it, people thought.
In the days immediately after the event, Lee went to social media with claims of cheating, and his followers hurled insults in regard to Stroup's family, friends and even sharp insults toward his girlfriend. After some photos surfaced of a supposed illegal knee, Lee felt his claims were validated. Stroup, however, felt the picture didn't tell the whole story. And thus, the drama began.
"I feel like I beat him legitimately," Stroup told Combat Press. "And I beat him because I'm a better fighter.
"The only real nut shot that happened was at the beginning of the fight, and that was barely just a skim on the cup. The second one that he bitched about, in the second round, didn't happen. It was on the inner thigh. Supposedly, against the cage, I kneed him in the balls right off the bat, and that just didn't happen. There's a picture that he found on the internet where it looks like I kneed him right in the balls, but it must have been while my knee was coming down or something, because I definitely didn't knee him in the balls there."
Spectators at the event were a little split about what happened, but most felt the accusations of cheating were a little extreme. The following night, at UFC Fight Night 46, Ian McCall and Brad Pickett traded accidental groin kicks and neither of them called the other a cheater. But, that's not the worst part.
Stroup comes from a very large extended family. He's considered a polite and honest person who isn't looking to win anything in a shady manner. The Denver native has a combined pro and amateur record of 10-1, and his only loss was by a controversial decision. He has finished all but three of his opponents. Something just wasn't adding up. In what has been a sort of uneventful season, in regard to exciting local match-ups, a sequel just made sense. Lee wanted a rematch and Stroup wanted validation.
"I think he's going to get what he asked for in the sense that I beat him down last time," Stroup said. "He knows that, but he ran his mouth and tried to downplay my win and say that I cheated. So, I mean, if he wants to get beat down again, I'll beat him down again."
Tomorrow night, SCL is hosting an event at the Bro Show at the Denver Mart. Headlining the event is Stroup versus Lee II. Fans love a grudge match, and this one has a nasty setup. Insults, outrageous claims and social media brawls have fanned the flames for three months, and it all comes to a head when these two face off in an all-out war.
"I'm going to come out there and land some heavy shots on him and let him know where he's at," Stroup explained. "He's going to realize right away that he's overmatched once again. Hopefully, I'll just take him out and beat him.
"He's definitely going to have to try something different, because last time he got beat up. I don't know if he's going to try to take me down or if he's going to try something different, but if he's smart at all, he has to do something different. But I'm ready for him wherever it goes."
Records alone put this one highly in favor of Stroup, but Lee has to show up with one hell of a game to prevent the proverbial egg on his face.
Stroup has a big future in MMA. With only one loss, several years of martial arts experience and a small taste of the Octagon from his appearance on TUF, he feels that he has much bigger fish to fry. But while he's waiting for a call from a big promotion, he'll jump back into the ring if it pays the bills for the full-time fighter.
"I like fighting for Sparta Combat League. They take good care of me, and I'll just keep fighting there until something big happens," Stroup intimated. "I think there's a lot of guys around Colorado that seem to want to get a piece of me, so I'll happily oblige and just keep fighting."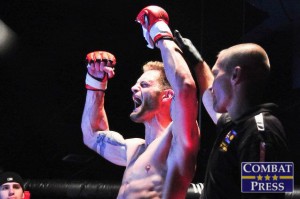 There were definitely some faces that appeared from the woodwork in the aftermath of Stroup's first pro title win. Guy like Donnie Liles and Canaan Grigsby are right on the forefront, and there are other match-ups that logically make sense, too. For now, though, Stroup's sole focus is to beat Lee again and move on from the drama.
"I've worked just as hard as last time, and I'm expecting the same results, only faster," Stroup admitted.
As for what's next, Colorado is home and Stroup is content as he patiently waits for one of the large promotions to pick him up. His family and friends are there, and any fighter can appreciate a big cheering section. Stroup's fans tend to take up a bulk of the crowd at his events, so it's a win-win in regard to the promoters, too.
"I like fighting at home, you know," stated the 27-year-old brawler. "And some of these so-called bigger promotions aren't paying anybody, so, I mean, I'll fight for Sparta Combat League until the big boys want to pick me up, if that's what it takes."
Stroup leads a very uneventful life. All of his focus goes into his training. Sure, the family life is close, but he's not out four-wheeling or bouncing between gyms. He stays in his place, works his ass off and invites all his fans to join him for a celebratory drink after his headline fight at SCL: Fight for a Cause tomorrow night.
"I've been training hard for this fight, and I'm expecting to get a first-round finish. The after-party is right at the venue, so come down and we'll drink some beers afterward."
Stroup would like to thank all of his family, friends and supporters, especially Marc Montoya and the whole Factory X crew. He would also like to thank his sponsors: Enseco, 5280 Armory and Ride the West RV. Follow Adam on Twitter:
@AdamStroup
---
Advertisement

---