As he reels back, an all too familiar feeling makes its way through his body. A sharp pain begins to develop around the shoulder. Almost instantly the grimace on his face tells the story to everybody in the room. They watch in disbelief.
Not again.
The aches and pains of a professional fighter come with the job description. There's always something that is hurting. It's the nature of the game they play. After all, this isn't a high school chess tournament; it's professional face-punching.
---
Advertisement

---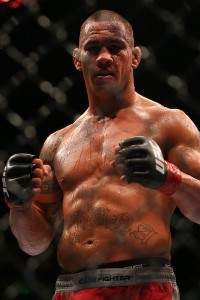 James Te Huna's surgeries have been plentiful over the decade that he has been fighting. With each prolonged period of rest, he comes back to perform better than ever. However, everything that could have gone wrong went wrong in the lead-up to his June 28 bout in Auckland, New Zealand—a contest in which he suffered his third consecutive loss when he was submitted in the first round by Nate Marquardt. Now comes the time for the 32-year-old to rest and recover.
"It's been a couple of months since the fight," Te Huna explained to Combat Press. "I got my shoulder done and got my ankle sorted out. It's a six- to eight-month recovery on the shoulder, which is the same as the last time I got it done, so I'll be out for like a good year, and I'll probably be fighting again around this time next year."
Heading into his marquee fight, Te Huna had several opportunities to pull out due to his nagging injuries. In hindsight, he probably should have. However, going into a fight with an injury is a fact of life for most fighters. It happens and they deal with it. The show has to go on.
"Yeah, [I should have pulled out] [laughs], but I was put in a position to headline the card, and being the first time it was a UFC card in New Zealand, I didn't wanna pass up on the opportunity. And I've always gone into fights with injuries. Everyone else does, but you've always got something in the bank when it comes to training," Te Huna explained. "I had nothing in the bank for this one. I took a gamble after elbow surgery at the start of the year. The first week of training for the fight against Nate, I broke my thumb. So that ruled out fight training for pretty much six weeks until that healed up and we took the gamble with fight training in the last five weeks. In the meantime, I was focusing on losing weight and stuff like that. And for the last five weeks, we got over to Auckland and had some great training partners and coaches. But it kinda just went from bad to worse with my shoulder popping out and a tear in my ankle and then the shoulder again. It was just fucked [laughs].
"Everyone comes into fights with injuries, and I've been there before—like you come into the fight two weeks out and you break something or something tears, but you're alright cause you've got a couple of months behind ya. With this, I just had nothing behind me, with dodging injuries and mainly trying to make weight and be fit. I came into the fight in good shape. I don't think I was ready for a fight, but I've got that mentality that I'll just jump in there and do my best and I did. I did the best with what I had."
Without a fight in the near future, Te Huna has been able to spend some much-needed time away from the grind that is a fight camp. Taking the time to out to focus on rehab, as well as helping others, has helped him remember why he loves the sport so much.
"I've been helping out with the gym and doing my own stuff as well and enjoying a year off away from fight training, and I needed it," Te Huna confessed. "I shoulda done it at the start of the year, but I sorta let pride get in the way. I'll have a year off, and hopefully it's the same as when I took a year off from my first shoulder surgery—I took a year off and then went on a good roll after that. This break's gonna do me a world of good. I was kinda crumbling late last year with all these injuries happening one after the other. I didn't know what was going on and I really just needed a break. No matter what, I'll always be involved in the sport—I love it and it's my life."
When the world begins to fall down around a fighter, it can be a stressful, especially when it's a fight that means so much to them. Te Huna went through hell before his big opportunity in the main event of New Zealand's very first UFC event. However, being dragged through hell never took away his fighting spirit.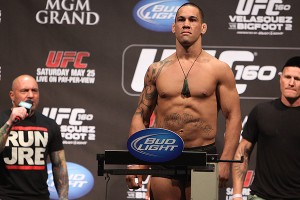 "I'm still in that mindset where I wanna fight," Te Huna explained. "Going into the five minutes before the walkout, it was like my body was saying no leading into the last fight. I was doing a sprawl and I got back to my feet and my finger fell out of place, and I put my hand up and showed the inspectors and stuff in my room, and everyone was freaking out because my finger was hanging down towards the side [laughs]. All the inspectors were running around the room saying, 'Put it back in! Put it back in!' [laughs]. It was all taped up and I was just like fucken hell, and Tama [Te Huna] and Stevie [Ashby], they just looked at each other shaking their heads saying, 'What else could go wrong?' It was just one thing after another."
The cold hard truth of the UFC is that a fighter can lose their job with just one setback inside the Octagon. Te Huna's first-round loss to Marquardt took him to a three-fight losing streak inside the famed Octagon, which could see him become unemployed. Te Huna, however, doesn't let the future get to him. His focus is now set on being a hundred percent ready for his return to the cage.
"I was expecting [to be cut] after when I lost the fight before my last fight, with two losses in a row," Te Huna admitted. "You know, if it happens, it happens and I'll move on. It's not really gonna worry me. Fighting in the UFC is the pinnacle of MMA, and I'm happy to be there. I'm not gonna fall on my face if I get the sack. I think the hardest thing for me is, over the years of fighting, I got up to a certain level and got on a bit of a win streak and got to a position where I could call out guys, but from there everything started going backwards with injuries and training.
"The main priority is for me to get fixed up. I've been carrying these injuries since the start of the year, and I've just gotta get my body right and get back on track."
James would like to thank PC Cranes, Corporate Electrical, Sky Arena, Boost Mobile, Pain Away and Competitive Edge. Follow Te Huna on Twitter:
@JamesTeHuna
---
Advertisement

---