Outside of life under a rock, it's pretty well known that Hawaii is full of areas that can be rather rough to grow up in. People lay claim to their homeland, and fighting is not uncommon as part of the culture.
Several mixed martial artists come from Hawaii. Guys like B.J. Penn, Travis Browne, Kendall Grove and Max Holloway are all notable Hawaiian fighters, but there are several up-and-comers that also come from the island state.
Boston Salmon, outside of the fact that he is from Hawaii, is probably the last person you want to try to poke fun at. His name may be unusual, but his background is not.
---
Advertisement

---
Salmon hails from Waianae, which is a small town on the island of Oahu that is to the northwest of the capital city of Honolulu. The scenery is gorgeous, but the culture can be rough. Because of that, the 24-year-old professional fighter had to learn to scrap at a young age.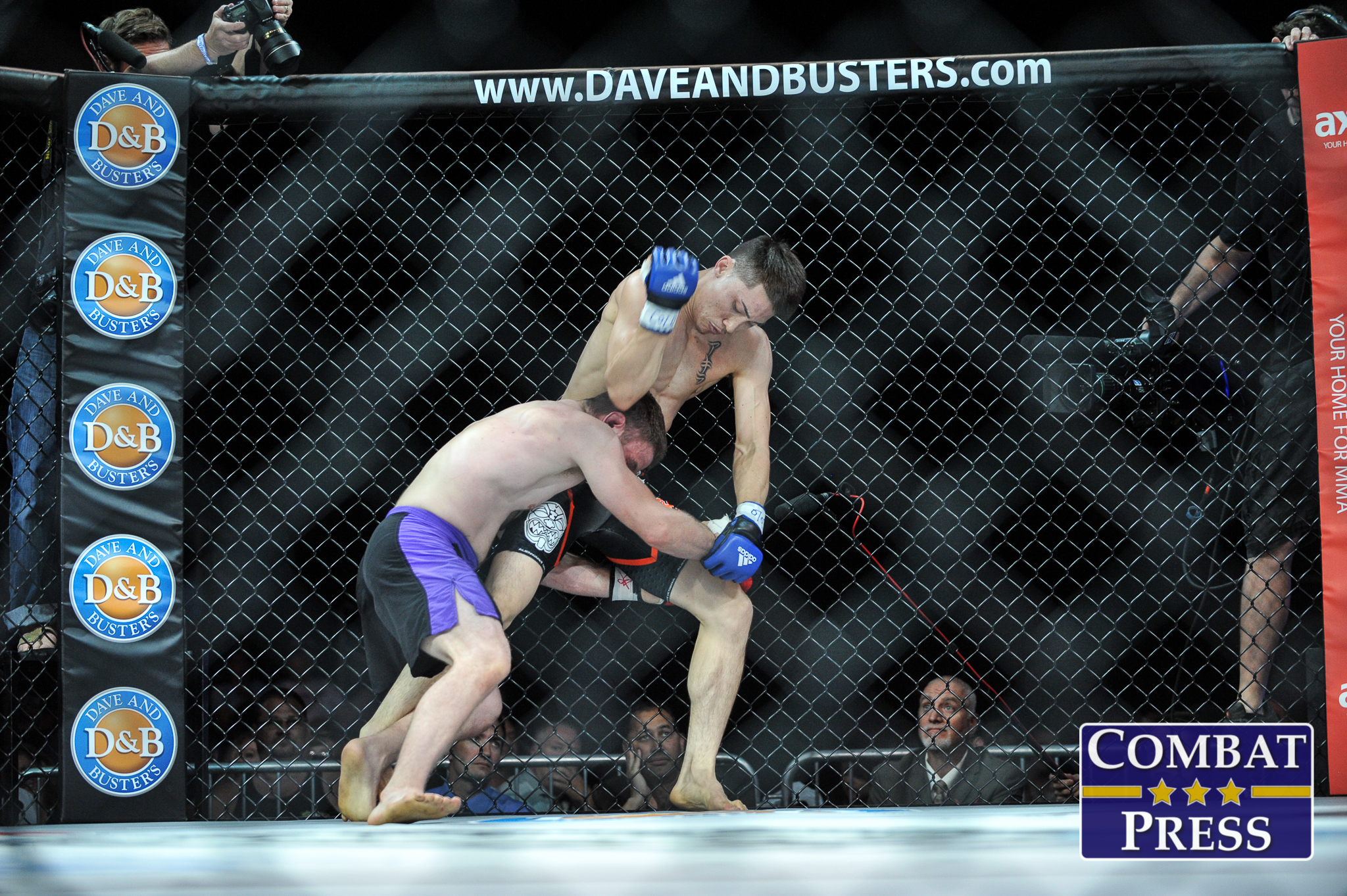 "Coming from Hawaii, especially the city I grew up in — it's a tough city, you know? — there's a lot of Hawaiians, and it's very territorial," Salmon told Combat Press. "My father, back in the day — back in his generation; he's about 53 — a lot of Hawaiians mistook him for white people. And, I'm like a quarter Hawaiian. They have this thing called haole. Haole means white, you know? It's funny, because all of his brothers and sisters were dark and stuff. They're all like Hawaiian. He and his older sister happened to take the lighter side, so he always had to prepare for any fights. It was pretty funny."
Even as native Hawaiians, some folks on the lighter end of the skin-color spectrum can run into trouble. In a territorial area where people take their heritage seriously, violence can occur amongst youth. Salmon experienced some of this firsthand.
"My father bought a house on the west side, near Waianae, which is a pretty rough town," Salmon explained. "I was getting into middle school and, prior to that, I was pretty athletic, so I was always playing sports year-round. If I wasn't playing soccer, I was playing baseball. If I wasn't playing baseball, I was playing football. I was always active. So when middle school came, my father was like, 'Hey son, you need to learn how to fight,' and I was like, 'Why? Why do I need to fight?'
"He said that I have to go to middle school soon and, at that school, everybody fights. He said I needed to learn how to defend myself. I don't know if you know about Oscar de la Hoya, but I feel like it was a story like that. De la Hoya was forced into the gym, and he was crying. I was kind of like that. I had a little tears in my eyes. I didn't want to fight. I didn't want to go to the boxing gym. But my father took me there, and I've loved the sport since then."
Like it had for Penn, Grove and the other Hawaiian athletes, fighting quickly became a passion for Salmon, and it ultimately became a career. Salmon started as an amateur boxer, and a damn good one at that. In 2011, he was actually ranked eighth in the nation in his weight class. At one point, he even found himself fighting in Colorado Springs, Colo., for a shot at the 2012 Summer Olympics.
"I won two national titles and got pretty close to making the Olympic team," Salmon said. "In high school, I got into wrestling, too. Before I went pro, I was boxing amateur for a while, but I was tired of fighting for free. I was trying to turn pro in boxing, but I broke my hand, took about six months off, then gave MMA a try."
In Hawaii, it was tough for Salmon to find a steady gym. He bounced around a few different places. However, he spent most of his career at Waipahu Boxing Gym, home of world champions like Brian Viloria and Jesus Salud. It was at this gym that he learned most of his craft. Eventually, though, he moved to Las Vegas.
"When I came to Vegas, I was at UNLV Boxing for a while," said the young fighter. "Then, they denied my qualification to compete for the NCAA, so that was when I started fighting for USA Boxing. Then I went to Barry's Boxing. Then [Floyd Mayweather's] gym, and that was it. That was when I made the move to train with Ron Frazier, and, at the time, he was at House of Ryu.
"I made a decision in my mind. My father wanted me to pursue MMA because he wanted me to get a different look, so he paid my first three months membership to go to the gym. I knew Ron Frazier was a coach there, and I wanted to give MMA a try, and if it didn't work out, I could always go back to boxing. So, I was at House of Ryu, and that place shut down. So, I made the move to Xtreme Couture."
Salmon got his real first foray into MMA in Las Vegas, but it was something that was on his radar back in his hometown, when a guy he knew well suggested he check out this up-and-coming sport.
"It's one of those funny stories," said Salmon. "One of my neighbors used to fight in Hawaii, and he fought in Rumble on the Rock and whatever, and his daughter is Raquel Pa'aluhi, and she fights in Invicta. Her father is my next-door neighbor, and he's the one that pulled me to the side and said, 'You've got good hands. You're pretty athletic. You're a great athlete. I think MMA is going to be very popular in the future, and UFC is a great sport and stuff. It's going to be real popular when you get older.'
"At the time, I was moving from football to soccer, and he said I should give wrestling a try. I told him I didn't want to wrestle and that I don't see myself in tights. He kept begging me to try it out, so I gave it a try at a wrestling gym and I fell in love with the sport. I ended placing in the top eight at state my senior year, so I've always had that little background in wrestling. I transitioned myself from wrestling into jiu-jitsu in Las Vegas."
Now, at Xtreme Couture, Salmon is making waves quickly in his newfound sport. He is 3-0 as a professional mixed martial artist. All of his fights have taken place under the Resurrection Fighting Alliance banner in 2014 at events in Broomfield, Colo.
Salmon's second MMA bout was at RFA 16 last July against local grappler Zac Chavez. Chavez apparently didn't get the memo about Salmon's background when he played "Shipping Up to Boston" by the Dropkick Murphys as his walkout song in an attempt to poke fun at the Hawaiian's name.
Well, Chavez walked into the proverbial wood chipper that night, as Salmon finished him via a bloody TKO in the first round.
"I thought it was funny that he came out to that song, and I ended up shipping him back home," Salmon joked.
For his next outing, the former boxer faced James DeHerrera, who had a lengthy amateur career but was only 1-0 as a pro. For the third time in a row, Salmon won by nasty TKO less than halfway into the fight. Combined with his 3-0 amateur career, Salmon has put on three exciting pro fights. There are no indications that he will be slowing down anytime soon.
"I attribute that to my coaches and my time in the gym," said Salmon. "When I look at my career, I tell myself that I need 10 or 12 years in this sport, and I've got to give it my all. I look for every fight to finish in a knockout or a TKO."
Salmon's next outing is on Friday night at RFA 26, back in Broomfield at the 1stBank Center. He will face another Colorado-based RFA veteran by the name of Danny Mainus.
Mainus may be well known for poking fun at his own name in an interview, but he is also a very tough, grinding competitor with a background in wrestling. His 3-3 record may not look spectacular on the surface, but all three of his wins were finishes and all three of his losses were split decisions. He trains out of the Grudge Training Center, just a few miles from the venue.
"I know Danny Mainus is no joke," admitted Salmon. "I'm sure he's going to bring a good fight. I don't really know much about him, other than his crazy interviews with Pat Miletich and Michael Schiavello. I know he's a collegiate wrestler and he's going to want to take me down. I'm prepared for that. I'm a mixed martial artist, and I train in every aspect. I'm ready for it."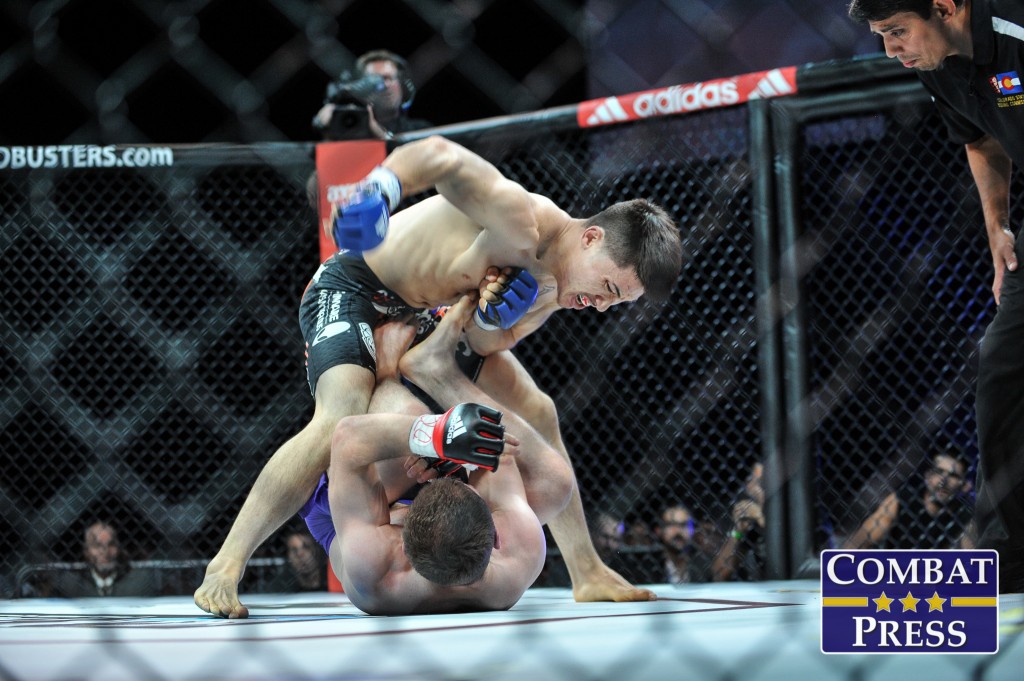 Salmon is definitely ready to get back in the cage. He hasn't fought since November, but that was not his original plan.
"I was supposed to fight in February, but I suffered a mild concussion, so my manager had to pull me out of that fight," explained Salmon. "It's hard when you're sitting out for that long, and you get that hunger where you just want to fight. I've been wanting to fight for a while, and I'm ready for it. I'm ready for Friday."
Friday will not only be an exciting night for Salmon, but also for Colorado fight fans. He has become sort of a cult fan-favorite, since all of his fights have consisted of upsets in the Centennial State. Although Mainus may be the hometown favorite tomorrow night, Salmon has no problem being the outsider coming in.
"To be a champ, you need to overcome all these obstacles," said the Las Vegas resident. "You can't always fight at home, you know? It's always been a dream to fight at home in Hawaii or Las Vegas, but for me to win in someone else's home, that says a lot about myself."
Salmon's performances speak for themselves. He is an exciting fighter who has finished nearly every opponent he has faced. Tomorrow night, he returns to the Rocky Mountains looking for another win in what is sure to be a successful future in mixed martial arts.
"I'm always looking for an exciting knockout. I don't ever look for submissions. I mean, if a takedown comes [and] if a submission comes, by all means, I'm happy for it. But my first instinct is to go in there and control my opponent. I want to go in there and get the knockout like every other fight."
Salmon would like to thank his teammates and coaches at Xtreme Couture, including Robert Follis, Dennis Davis, Ray Nixon, Ray Sefo, Ron Frazier and Brian Caraway, as well as his family, girlfriend, friends, fans and management. He would also like to thank his sponsors: Alienware MMA and Farmer's Market Hawaii. Follow Boston on Twitter:
@BostonSalmon
---
Advertisement

---